Drugs allow most people with asthma to lead relatively normal lives. Most of the drugs used to treat an asthma attack can be used (often in lower doses) to prevent attacks. (See also Asthma.)
Therapy is based on two classes of drugs:
Anti-inflammatory drugs
Bronchodilators
Anti-inflammatory drugs suppress the inflammation that narrows the airways. Anti-inflammatory drugs include corticosteroids (which can be inhaled, taken by mouth, or given intravenously), leukotriene modifiers, and mast cell stabilizers.
Bronchodilators help to relax and widen (dilate) the airways. Bronchodilators include beta-adrenergic drugs (both those for quick relief of symptoms and those for long-term control), anticholinergics, and methylxanthines.
Other types of drugs that directly alter the immune system (called immunomodulators) are sometimes used for people with severe asthma, but most people do not need immunomodulators.
Beta-adrenergic Drugs
Short-acting beta-adrenergic drugs
Short-acting beta-adrenergic drugs are usually the best drugs for relieving asthma attacks. They also are used to prevent exercise-induced asthma. These drugs are referred to as bronchodilators because they stimulate beta-adrenergic receptors to widen (dilate) the airways. Bronchodilators that act on all beta-adrenergic receptors throughout the body (such as epinephrine) cause side effects such as rapid heartbeat, restlessness, headache, and muscle tremors. Bronchodilators (such as albuterol) that act mainly on beta2-adrenergic receptors, which are found primarily on cells in the lungs, have less effect on other organs and thus cause fewer side effects. Most short-acting beta-adrenergic drugs, especially the inhaled ones, act within minutes, but the effects last only 2 to 6 hours.
Quick medical attention should be sought when a person who has asthma feels the need to use more of a beta-adrenergic drug than is recommended. The need for extra use, particularly continuous use, indicates worsening bronchoconstriction, which can be dangerous, possibly risking even respiratory failure and death.
Long-acting beta-adrenergic drugs
Long-acting beta-adrenergic drugs are available, but they are used to prevent rather than to treat asthma attacks. Long-acting beta-adrenergic drugs are effective for about 12 hours, so people usually need two doses per day.
The long-acting beta-adrenergic drugs are not used alone because people using only long-acting beta-adrenergic drugs may have a slightly higher risk of death. Thus, doctors always give them together with inhaled corticosteroids.
Ultra–long-acting beta-adrenergic drugs
Ultra–long-acting beta-adrenergic drugs are effective for up to 24 hours, so people need only one dose per day.
Ultra–long-acting beta-adrenergic drugs are also not used alone because they may cause the same increase in the risk of death as long-acting drugs. Thus, doctors always give them together with inhaled corticosteroids.
Taking inhaled beta-adrenergic drugs
Metered-dose inhalers (handheld cartridges containing gas under pressure) are the most commonly used method for giving inhaled beta-adrenergic drugs. The pressure turns the drug into a fine spray containing a measured dose of drug. Inhalation deposits the drug directly in the airways, so that it acts quickly, but the drug may not reach airways that are severely narrowed. For people who have difficulty using a metered-dose inhaler, spacers or holding chambers can be used. These devices increase the amount of drug delivered to the lungs. With any type of inhaler, proper technique is vital. If the device is not used properly, the drug will not reach the airways.
A dry powder drug formulation is also available for many bronchodilators. The powder formulation is easier for some people to use, in part because it requires less coordination with breathing than when using a metered-dose inhaler.
How to Use a Metered-Dose Inhaler
Shake the inhaler after removing the cap.
Exhale fully for 1 or 2 seconds.
Put the inhaler in your mouth or 1 to 2 inches from it and start to breathe in slowly, like sipping hot soup.
While starting to breathe in, press the top of the inhaler.
Breathe in slowly until your lungs are full. (This should take about 5 or 6 seconds.)
Hold your breath for 10 seconds (or as long as you can).
Breathe out and, if a second dose is required, repeat the procedure after 1 minute.
If you find it difficult to coordinate breathing using this method, a spacer can be used.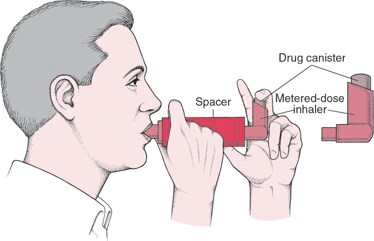 A nebulizer can be used to deliver beta-adrenergic drugs directly to the lungs. A nebulizer uses pressurized air or ultrasonic sound waves to create a continuous mist of drug that is inhaled without having to coordinate dosing with breathing. Nebulizers are often portable, and some units can even be plugged into a power outlet in a car. Nebulizers and metered-dose inhalers often deliver different amounts of drug with a single dose, but both are capable of delivering sufficient amounts of drug to the lungs. Nebulizer therapy is less likely to reach the more distant airways in people who are breathing comfortably and not taking deep breaths, making nebulized therapy less effective than a correctly used metered-dose inhaler or a dry powder formulation.
Other bronchodilators, including the anticholinergic drug ipratropium delivered through a nebulizer, may be combined with beta-adrenergic drugs for acute attacks. A combination of ipratropium plus albuterol given in a metered-dose inhaler is also available.
Other forms of beta-adrenergic drugs are also available. Beta-adrenergic drugs can be taken in liquid or tablet form or injected. However, the oral drugs tend to work more slowly than the inhaled or injected ones and are more likely to cause side effects so doctors use them less often. Side effects include abnormal heart rhythms, which may suggest excessive use.
Anticholinergic Drugs
Anticholinergic drugs, such as ipratropium and tiotropium, block acetylcholine from causing smooth muscle contraction and from producing excess mucus in the bronchi. These drugs are inhaled. These drugs further widen (dilate) the airways in people who have already been given beta-adrenergic drugs or an inhaled corticosteroid.
Leukotriene Modifiers
Leukotriene modifiers, such as montelukast, zafirlukast, and zileuton, also help control asthma. They are anti-inflammatory drugs that prevent the action or synthesis of leukotrienes. Leukotrienes are chemicals made by the body that cause bronchoconstriction. These drugs, which are taken by mouth, are used more to prevent asthma attacks than to treat them.
Mast Cell Stabilizers
Mast cell stabilizers, which are inhaled, include cromolyn and nedocromil. These drugs are thought to inhibit the release of inflammatory chemicals from mast cells and make the airways less likely to narrow. Thus, they are also anti-inflammatory drugs. They are useful for preventing but not treating an attack. Mast cell stabilizers may be helpful for children who have asthma and for people who develop asthma due to exercise. These drugs are very safe and must be taken regularly even when a person is free of symptoms.
Corticosteroids
Corticosteroids block the body's inflammatory response and are exceptionally effective at reducing asthma symptoms. They are the most potent form of anti-inflammatory drugs and have been an important part of asthma treatment for decades.
Corticosteroids can be taken in several different forms. Often, inhaled versions are best because they deliver the drug directly to the airways and minimize the amount sent throughout the body. The inhaled form is used to prevent attacks and improve lung function. Inhaled corticosteroids come in several strengths and are generally used twice a day. People should rinse their mouth after use to decrease the likelihood that a fungal infection of the mouth (thrush) develops. Oral or injected corticosteroids may be used in high doses to relieve a severe asthma attack and are generally continued for 1 to 2 weeks. Oral corticosteroids may be given for several days after an asthma attack and are prescribed on a long-term basis only when no other treatments can control the symptoms.
If taken for long periods, corticosteroids gradually reduce the likelihood of an asthma attack by making the airways less sensitive to a number of provocative stimuli. Long-term use of corticosteroids, especially larger doses taken by mouth, can cause side effects including obesity, osteoporosis, cataracts, easy bruising, skin thinning, insomnia, elevated blood glucose levels, and, very rarely, psychosis. Some studies have suggested that growth may be delayed when children use corticosteroids for an extended period. However, most children who use inhaled corticosteroids eventually reach their predicted adult height.
Immunomodulators
Omalizumab is a drug that is an antibody directed against a group of other antibodies called immunoglobulin E (IgE). Omalizumab is used in people with asthma who also have severe allergies and high levels of IgE in their blood. Omalizumab prevents IgE from binding to mast cells and thus prevents the release of inflammatory chemicals that can narrow the airways. It can decrease requirements for oral corticosteroids and help relieve symptoms. The drug is injected subcutaneously every 2 to 4 weeks.
Benralizumab, dupilumab, mepolizumab and reslizumab are antibodies that target molecules that cause airway inflammation (interleukins). They are used in the treatment of people with severe asthma triggered by allergens. Mepolizumab reduces the number of asthma attacks, decreases asthma symptoms, and reduces the need for corticosteroids. Mepolizumab is injected subcutaneously every 4 weeks. Reslizumab reduces the number of asthma attacks and decreases asthma symptoms. It is given intravenously every 4 weeks. Benralizumab and dupilumab may be given in addition to other asthma drugs for people who have a lot of eosinophils (a type of white blood cell) in their bloodstream.
Severe allergic reactions (anaphylaxis) sometimes occur after these drugs are given; therefore, these drugs are given in supervised healthcare settings, such as outpatient clinics or doctor's offices.
Methylxanthines
Theophylline, a methylxanthine, is another drug that causes bronchodilation. It is now used less frequently than in the past. Theophylline is usually taken by mouth. Oral theophylline comes in many forms, from short-acting tablets and syrups to longer-acting sustained release capsules and tablets. Theophylline is used mainly for prevention of asthma.
The amount of theophylline in the blood can be measured in a laboratory and must be closely monitored by a doctor. Too little drug in the blood may provide little benefit, and too much drug may cause life-threatening abnormal heart rhythms or seizures. When first taking theophylline, a person who has asthma may feel slightly jittery and may develop headaches. These side effects usually disappear as the body adjusts to the drug. Larger doses may cause a rapid heartbeat, nausea, or palpitations. A person may also experience insomnia, agitation, vomiting, and seizures. Occurrence of these side effects is one of the reasons that theophylline is used less often than other drugs.
Drugs Commonly Used to Treat Asthma
Drug

Some Side Effects

Comments

Anticholinergics (inhaled)

Tiotropium

Dry mouth

Rapid heart rate

Usually used in combination with a beta-adrenergic drug

Short-acting beta-adrenergic drugs (inhaled)

Albuterol

Levalbuterol

Increased heart rate

Shakiness

For immediate relief of acute attack

Albuterol also available in oral preparation

Long-acting beta-adrenergic drugs (inhaled)

Formoterol

Salmeterol

Increased heart rate

Shakiness

For ongoing treatment, not for acute relief

Not recommended for use alone (without other asthma drugs)

Ultra–long-acting beta-adrenergic drugs (inhaled)

Vilanterol

Runny nose and sneezing

High blood pressure

Cough

Headache

Not recommended for use alone (without other asthma drugs).

Vilanterol available only in combination with fluticasone

Corticosteroids (inhaled)

Beclomethasone

Budesonide

Fluticasone furoate

Fluticasone propionate

Fungal infection of the mouth (thrush)

A change in the voice

Inhaled for prevention (long-term control) of asthma

Corticosteroids (oral or injection)

Methylprednisolone

Prednisolone

Prednisone

Weight gain

Elevated blood sugar levels

Rarely, psychosis

Osteoporosis

Cataracts

Skin thinning and easy bruising

Insomnia

Used for acute asthma attacks and for asthma that cannot be controlled with inhaled therapy

Immunomodulators (injection)

Benralizumab

Mepolizumab

Omalizumab

Reslizumab

Discomfort at the injection site

Rarely, anaphylactic reactions

Used in people with severe asthma to decrease use of oral corticosteroids

Leukotriene modifiers (oral)

Montelukast

Zafirlukast

Zileuton

Eosinophilic granulomatosis with polyangiitis

With zileuton, elevated liver enzymes

Used more for prevention (long-term control) than for treatment

Mast cell stabilizers (inhaled)

Coughing or wheezing

Useful for preventing attacks, often related to exercise, but not for treatment of an acute attack

Nedocromil not available in the United States

Methylxanthine (oral)

Theophylline

Increased heart rate

Shakiness

Stomach upset

Seizures (if the blood level is high)

Serious heartbeat irregularities (if the blood level is high)

Can be used for prevention and treatment

Taken by mouth but can be given intravenously in a hospital
Other Drugs Used to Prevent and Treat Asthma
Other drugs are occasionally used in asthma treatment. These drugs may be used in specific circumstances. Magnesium is often given by vein in the emergency department for acute attacks.
Other drugs that may be given for chronic asthma include lidocaine or heparin given with a nebulizer, colchicine, and intravenous immune globulin. Evidence supporting the use of any of these therapies is limited, so these drugs are used much less often.
People who take inhaled corticosteroids and who have risk factors for osteoporosis, such as older age, family members with osteoporosis, a diet that is low in calcium and vitamin D, or thin build, may need to take calcium and vitamin D supplements and bisphosphonates to try to preserve bone density.
More Information
Allergy and Asthma Network
American Academy of Allergy, Asthma and Immunology
Asthma & Allergy Foundation of America
Drugs Mentioned In This Article