Neuromyelitis optica spectrum disorder affects mainly the nerves in the eyes and spinal cord, causing patches of myelin (the substance that covers most nerve fibers) and the nerve fibers under them to be damaged or destroyed.
Neuromyelitis optica spectrum disorder is a demyelinating disorder. It causes symptoms similar to those of multiple sclerosis (MS) and used to be considered a variant of multiple sclerosis. However, neuromyelitis optica spectrum disorder typically affects mainly the eyes and the spinal cord, and multiple sclerosis also affects the brain.
The risk of becoming disabled is greater with neuromyelitis optica spectrum disorder than with multiple sclerosis. Thus, people with symptoms suggesting neuromyelitis optica spectrum disorder should see a doctor promptly.
Insulating a Nerve Fiber
Most nerve fibers inside and outside the brain are wrapped with many layers of tissue composed of a fat (lipoprotein) called myelin. These layers form the myelin sheath. Much like the insulation around an electrical wire, the myelin sheath enables nerve signals (electrical impulses) to be conducted along the nerve fiber with speed and accuracy. When the myelin sheath is damaged (called demyelination), nerves do not conduct electrical impulses normally.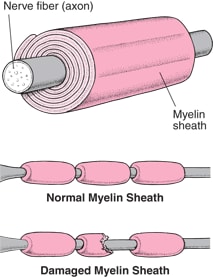 Neuromyelitis optica spectrum disorder is also an autoimmune disorder. Autoimmune disorders occur when the immune system malfunctions and attacks the body's own tissues. In neuromyelitis optica spectrum disorder, the target of the autoimmune attack is a protein called aquaporin 4, which is present on the surface of support cells (called astrocytes) in the brain, spinal cord, and optic nerves. Damage to astrocytes is thought to lead to demyelination. In some people with neuromyelitis optica spectrum disorder, the immune system targets another protein called myelin oligodendrocyte glycoprotein (MOG), which is present on the outer layer of myelin.