What is Clindesse?
Clindesse is a vaginal cream medicine used to treat bacterial vaginal infections in women who are not pregnant.
It is not known if Clindesse is safe and effective in pregnant women.
It not known if Clindesse is safe and effective in females who have not yet reached puberty.
What is the most important information I should know about Clindesse?
For vaginal use only.
Do not put Clindesse in your eyes, mouth, or on your skin.
Who should not use Clindesse?
Do not use Clindesse if you:
have had an allergic reaction to clindamycin or other lincosamide antibiotic medicines or are allergic to any of the ingredients in Clindesse. See the end of this leaflet for a complete list of ingredients in Clindesse.
had had bowel problems such as:

inflammation of your intestines (enteritis)
inflammation of your colon (colitis)
diarrhea due to a Clostridum difficile infection (CDAD)
Talk to your healthcare provider before using this medicine if you have any of these conditions.
What should I tell my healthcare provider before using Clindesse?
Before you use Clindesse, tell your healthcare provider if you:
are pregnant or plan to become pregnant. It is not known if Clindesse will harm your unborn baby.
are breastfeeding or plan to breastfeed. It is not known if Clindesse passes into your breast milk. You and your healthcare provider should decide if you will take Clindesse or breast feed.
Tell your healthcare provider about all the medicines you take, including prescription and non-prescription medicines, vitamins, and herbal supplements.
Clindesse may affect how other medicines work, and other medicines may affect how Clindesse works.
Know the medicines you take. Keep a list of them to show your healthcare provider and pharmacist when you get a new medicine.
How should I use Clindesse?
Use Clindesse exactly as your healthcare provider tells you.
Insert Clindesse in the vagina one time. See the Instructions for Use below.
Insert all of the Clindesse cream into your vagina.
Do not use Clindesse after the expiration date on the package.
Do not get Clindesse in your eyes. If you accidently get Clindesse in your eyes rinse your eyes with cool tap water right away and call your healthcare provider.
What should I avoid while using Clindesse?
After you insert Clindesse you should:
not have vaginal intercourse or use of other vaginal products (such as tampons or douches) for at least 7 days.
not use barrier contraceptive products for 5 days. Barrier contraceptives include condoms or contraceptive diaphragms used for birth control or to protect yourself against HIV or other sexually transmitted diseases. Clindesse contains mineral oil that may weaken latex or rubber products such as condoms or vaginal contraceptive diaphragms.
What are the possible side effects of Clindesse?
Clindesse may cause serious side effects, including diarrhea. One type of diarrhea is caused by an infection in your intestines called Clostridium difficile-associated diarrhea (CDAD). If you have diarrhea after you use Clindesse, call your healthcare provider.
The most common side effects of Clindesse include:
fungal infection in your vagina. You may need to take an anti-fungal medicine if you get a fungal infection
headache
back pain
constipation
urinary tract infection
Tell your healthcare provider if you have any side effect that bothers you or that does not away.
These are not all of the possible side effects of Clindesse. For more information, ask your healthcare provider or pharmacist.
Call your doctor for medical advice about side effects. You may report side effects to FDA at 1-800-FDA-1088.
General information about the safe and effective use of Clindesse
Medicines are sometimes prescribed for purposes other than those listed in a patient information leaflet. Do not give Clindesse to other people, even if they have the same symptoms you have. It may harm them.
This leaflet summarizes the most important information about Clindesse. If you would like more information, talk with your healthcare provider. You can ask your pharmacist or healthcare provider for information Clindesse that is written for health professionals.
For more information, go to www.clindesse.com or call 1-866-634-9120
How should I store Clindesse?
Store Clindesse at 68° to 77°F (20° to 25°).
Keep Clindesse and all medicines out of the reach of children.
What are the ingredients in Clindesse?
Active ingredient: clindamycin phosphate
Inactive ingredients: edetate disodium, glycerol monoisostearate, lecithin, methylparaben, microcrystalline wax, mineral oil, polyglyceryl-3-oleate, propylparaben, purified water, silicon dioxide and sorbitol solution
Instructions of use
For vaginal use only.
Do not put Clindesse in your eyes, mouth, or on your skin.
It is important that you read and follow these directions on how to use Clindesse vaginal cream properly.
Clindesse comes in a single-dose, pre-filled, disposable applicator that gives you a certain amount of clindamycin cream to be inserted into your vagina.
Step 1. Prepare the applicator.
Peel back the protective foil and remove the pre-filled applicator. Do not remove the tip. The applicator is made to be used with the tip in place. Do not use the applicator if the tip has been removed (see Figure 1).

Activate the plunger before you use it. To activate the plunger, pull the ring back to fully extend the plunger while you firmly hold the applicator (see Figure 2).
Step 2. Insert the applicator.
Gently insert the applicator into your vagina as far as it will comfortably go (see Figure 3).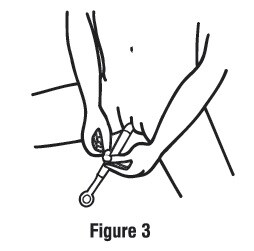 Step 3. Apply the cream.
Push the plunger in until all of the cream goes into your vagina (see Figures 4 and 5).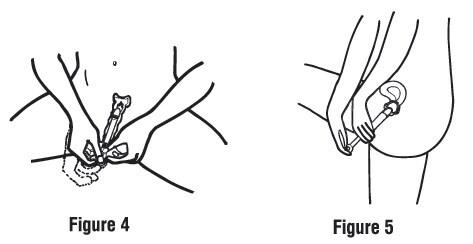 Step 4. Remove the empty applicator from your vagina and throw it away in the trash.