Healthy heart diet guide
Reviewed by Medicine.com on September 13, 2022
Written by Cara Le Mouton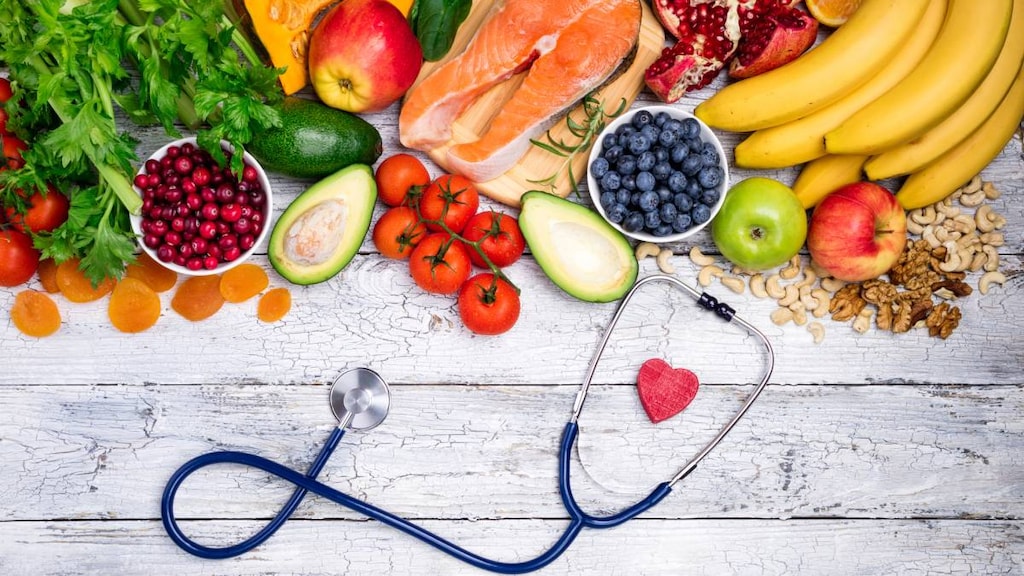 A healthy, well-balanced diet plays an important role in managing and preventing heart disease. What you eat and how much you eat can help reduce your risk of developing a heart condition.
A healthy diet rich in vegetables, fruits, and starchy foods can help reduce and may eliminate certain risk factors for heart disease such as excess body weight, high low-density lipoprotein (LDL) or 'bad' cholesterol levels, high blood sugars, and high blood pressure.
Your doctor may recommend adopting a specific diet such as the Mediterranean diet or DASH (Dietary Approaches to Stop Hypertension) diet to help get you started on a healthy eating plan.
Making simple changes to your diet along with physical exercise is the first step to being heart-healthy. Add these foods to your everyday eating plan.
Fruit and vegetables
Fruits and vegetables contain a wide variety of vitamins, minerals, and antioxidants that can help reduce inflammation and reduce the buildup of plaque in your arteries.
Fruits and vegetables are also good sources of fiber, particularly soluble fiber, which can lower risk factors for heart disease. The majority of fruits and vegetables are low in fat, low in calories, and leave you feeling fuller for longer, making them the perfect food to eat.
Eat a wide variety of fruits and vegetables including fresh, frozen, dried, or canned. Make sure the canned types are low in sugar and sodium.
The American Heart Association (AHA) recommends eating at least four to five servings a day. You should include them in every meal or snack. A single serving can be:
1 medium size fruit (about the size of your fist) - such as pears, apples, peaches, oranges, bananas, mangoes
1 cup of raw or cooked vegetables - such as carrots, broccoli, green beans, okra, cabbage
1 cup of starchy vegetables - such as potatoes, yams, squash
1 cup of raw leafy vegetables - such as spinach, swiss chard, kale, lettuce
¼ cup of unsweetened dried fruit
½ cup of fresh, frozen or canned fruit and vegetables - such as watermelon, berries, pineapple, kiwi fruit, cantaloupe, cauliflower, zucchini, tomatoes. Choose canned fruit and vegetables that are in juice or water
¼ cup of fruit or vegetable juice
Wholegrain foods
Wholegrain foods are a great source of fiber and can help reduce risk factors for heart disease.
Fiber is good for controlling and managing your weight by keeping you feeling fuller for longer. Foods high in fiber tend to be lower in calories too. Eating fiber can improve blood sugar levels, increase 'good' high-density lipoprotein (HDL) cholesterol, lower LDL cholesterol, and lower blood pressure.
The AHA recommends three or more servings per day. A single serving of wholegrain foods can be:
1 slice of wholegrain bread
½ cup of cooked brown rice or wholemeal pasta
½ cup of cooked oatmeal cereal
1 cup of wholemeal cereal
5 wholegrain crackers
3 cups of air-popped popcorn (unsalted and unsweetened)
Protein foods
Protein has essential nutrients that provide your body with energy, helps build muscle and is important for brain and heart health.
Protein foods include fish, poultry, beans, peas, nuts and seeds, legumes, eggs, tofu, and lean cuts of red meat.
Choose plant-based protein foods over animal-based foods as they provide more fiber and have less saturated fats than meat.
Fish, particularly oily fish, is also a better choice than meat. It is packed with healthy omega-3 fats that have been proven to help reduce your risk of heart disease.
Limit the amount of red meat and poultry you eat as they tend to be higher in saturated fats. Choose lean cuts of meat and remove any fat or skin.
A protein source should be included in every main meal. Serving recommendations are:
Food source

Recommended servings a week

Single serving suggestion

Fish - such as salmon, mackerel, bluefin tuna, black cod, sardines, or herrings

2

3 oz (85g) of cooked fish
¾ cup of flaked fish

Eggs

Up to 6

Red meat or poultry - such as beef, lamb, pork, chicken, and turkey

No more than 2

3 oz (85g) lean red meat
1 slice of roast meat
½ lamb shank
4 oz (125g) of minced or diced beef, lamb or pork
½ chicken breast (skinless)

Nuts - such as almonds, hazelnuts, walnuts, pecans and macadamia nuts

Seeds - such as sunflower seeds, pumpkin seeds, chia seeds, flaxseeds, sesame seeds

Legumes - such as chickpeas, lentils, peas, kidney beans, pinto beans, cannellini beans

3-4

½ oz (14g) of unsalted, dry-roasted nuts
½ oz (14g) of unsalted seeds
½ cup of legumes
1 tablespoon of peanut butter (low in salt and sodium)

Whole soy products - such as soybeans (edamame beans), tofu, soy nuts, tempeh

3-4

½ cup of soybeans
25g tofu
3.8 oz (110g) block of tempeh
2 slices of soy bread
1 teaspoon soy sauce
Low-fat or fat-free dairy
Dairy products are a good source of calcium and protein and are important for bone health and may help improve heart health.
Research has shown that including low-fat and unsweetened dairy products in your diet may help lower hypertension and reduce LDL cholesterol.
Soy milk and yogurt are good dairy alternatives that are associated with lowering LDL cholesterol levels.
The AHA recommends three servings of low-fat dairy a day. A single serving can be:
1 cup of low-fat (1%) or fat-free milk
1 cup of low-fat plain yogurt (unsweetened)
1 ½ oz (42g) of low-fat unprocessed cheese or cottage cheese
1 cup of soy milk (unsweetened and fortified)
A small container of plain soy yogurt (unsweetened)
Healthy fats
Choose foods to eat that contain healthy monounsaturated and polyunsaturated fats. These fats can help lower bad LDL cholesterol levels.
Monounsaturated and polyunsaturated fats can be found mostly in plant-based oils such as olive oil, sunflower oil, canola oil, soybean oil, or sesame oil. However, they can also be found in peanut butter, some nuts and seeds, soybeans, tofu, oily fish like sardines, and avocados.
Avoid or limit foods that contain saturated fats or trans fats as they raise LDL cholesterol levels. Foods that are high in saturated and trans fats include processed meats, some baked goods, full-fat dairy products, fried foods, fatty cuts of red meat and poultry (with skin), and coconut and palm oils.
Bottom line
Eating a healthy, well-balanced diet helps reduce your risk for developing a heart condition.
Aim for half your plate to be full of fruit and vegetables, a quarter to contain wholegrains and the other quarter to contain protein. Choose cut-up vegetables or fruits for snacks. Drink plenty of water over the day too.
Be aware of your calorie intake. A typical diet should include about 2000 calories per day, though you may need more or less calories due to certain factors such as your level of physical activity, gender and age.
Choose healthy ways of cooking - poach, grill, steam or bake your foods rather than frying or roasting. Use healthy oils or spray oil when cooking instead of butter or lard.
Limit food and beverages that are high in salt, sodium, sugar and saturated or trans fats.
Consult your doctor or nutritionist to help you plan a diet that is right for you.