What is Gelnique?
Gelnique is a prescription medicine used to treat the symptoms of overactive bladder:
Urge urinary incontinence (a strong need to urinate with leaking or wetting accidents).
Urgency (a strong need to urinate right away).
Frequency (need to urinate often).
Who should not use Gelnique?
Do not use Gelnique if:
your bladder does not empty or does not empty completely when you urinate (urinary retention).
your stomach empties slowly or incompletely after a meal (gastric retention).
you have uncontrolled narrow-angle glaucoma (high pressure in your eye). Tell your doctor if you have glaucoma or a family history of glaucoma.
you are allergic to oxybutynin or any of the ingredients in Gelnique. See the end of this Patient Information guide for a complete list of ingredients in Gelnique.
What should I tell my healthcare provider before using Gelnique?
Before using Gelnique, tell your healthcare provider about all of your medical conditions, including, if you:
have problems emptying your bladder completely
have a gastrointestinal obstruction (blockage in the digestive system)
have constipation or difficulty emptying your bowels

have ulcerative colitis (inflamed bowels)
have gastroesophageal reflux disease or esophagitis (inflamed esophagus, the tube between your mouth and stomach)

have Myasthenia Gravis (condition that causes muscle weakness)
are pregnant or plan to become pregnant
are breastfeeding or plan to breastfeed
medicines called "bisphosphonates" to treat osteoporosis
medicines called "anticholinergics"
Especially tell your doctor if you take:
Ask your doctor or pharmacist for a list of these medicines if you are not sure if you take any of these medicines.
Know the medicines you take including prescription and non-prescription medicines, vitamins, and herbal supplements.
Keep a list of them and show it to your healthcare provider and pharmacist when you get a new medicine.
How should I use Gelnique?
See Instructions for Use for information about the correct way to apply Gelnique.
Gelnique is for skin use only.
Use Gelnique exactly as your healthcare provider tells you to use it.
Gelnique should only be applied to dry intact skin on your stomach (abdomen), upper arms, shoulders, or thighs.
Do not put Gelnique on open sores, recently shaved skin, or skin with rashes.
You should change your application site every day. Do not use the same site 2 days in a row. Changing application sites every day can help reduce your chance of getting skin irritation.
Gelnique contains alcohol and is flammable. Avoid fire, flames or smoking until Gelnique has dried.
After applying Gelnique, wash your hands with soap and water right away.
Cover the application site with clothing if skin-to-skin contact between another person and the application site is expected.
If someone else is exposed to Gelnique by direct contact with the gel or at the application site, that person should wash the area of contact with soap and water as soon as possible.
If you get Gelnique in your eyes, rinse your eyes right away with warm, clean water to flush out any Gelnique.
Gelnique may be used with sunscreen.
What should I avoid while taking Gelnique?
Gelnique can cause tiredness, drowsiness, dizziness or blurred vision. Do not drive, operate machinery, or do other dangerous activities until you know how Gelnique affects you.
Do not take a bath, swim, shower, exercise, or get the application site wet for at least 1 hour after you apply your dose.
What are the possible side effects of Gelnique?
Gelnique can cause serious side effects including:
Allergic reactions, including allergic skin reactions
The most common side effects of Gelnique include:
dry mouth
redness, rash, itching, pain at the application site
dizziness
headache
constipation
itching
tiredness
Other side effects that have been seen with drugs containing oxybutynin, like Gelnique, include: dizziness and blurred vision, drowsiness that may be increased with alcohol (beer, wine, or hard liquor), and decreased sweating that may lead to overheating.
Tell your healthcare provider if you have any side effect that bothers you or that does not go away. These are not all the possible side effects of Gelnique. For more information, ask your healthcare provider or pharmacist.
Call your doctor for medical advice about side effects. You may report side effects to the FDA at 1-800-FDA-1088.
General information about the safe and effective use of Gelnique
Medicines are sometimes prescribed for purposes other than those listed in the Patient Information leaflet. Do not use Gelnique for a condition for which it was not prescribed. Do not give Gelnique to other people, even if they have the same symptoms you have. It may harm them.
You can ask your pharmacist or healthcare provider for information about Gelnique that is written for health professionals.
For more information about Gelnique call 1-800-678-1605 or go to www.GELNIQUE.com
How should I store Gelnique?
Store Gelnique at 68°F to 77°F (20°C to 25°C).
Safely throw away Gelnique in household trash. Be careful to prevent accidental exposure to children or pets.
Keep Gelnique metered-dose pump and sachets in a dry place.
Keep Gelnique and all medicines out of the reach of children.
What are the ingredients in Gelnique?
Active Ingredient: oxybutynin chloride
Inactive Ingredients: alcohol, USP; glycerin, USP; hydroxypropyl cellulose, NF; sodium hydroxide, NF; and purified water, USP.
Instructions for use
Applying Gelnique:
1. Selecting your application site:
Apply Gelnique only to 1 of the shaded areas shown in the figure below: (See Figure A)
stomach (abdomen)
upper arms
shoulder
thigh
Figure A: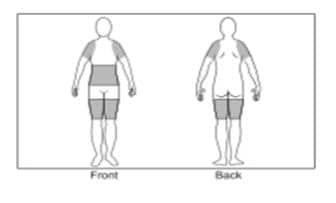 Wash the area where Gelnique will be applied with mild soap and water. Allow the area to dry completely.
Wash your hands with soap and water.
2. How to use the Gelnique packets (sachets):
Find the notch at the top of your Gelnique packet. Tear off the top of the Gelnique packet at the notch (See Figure B).
Figure B: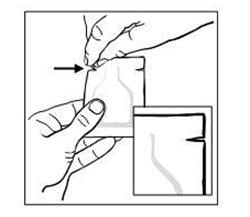 Squeeze all of the Gelnique out of the packet onto your hand (palm or fingertips) or you can squeeze all of the Gelnique from the packet right onto the application site (See Figure C).
Squeeze from the bottom of the packet toward the open end. Repeat until the packet is empty. The amount of Gelnique in each packet will be about the size of a nickel. Apply Gelnique to your skin (shown in Figure C).
Figure C: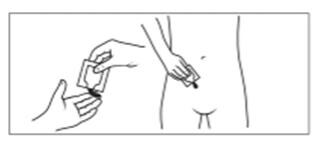 Wash your hands with soap and water right away.
Throw away the packet in the trash out of the reach of children to avoid accidental exposure.
3. How to use the Gelnique pump:
You must prime the Gelnique pump before you use it for the first time.
To prime the pump:
To prime Gelnique, hold the pump upright (see Figure D) and fully press down (depress) the pump several times with your thumb or index finger until you see gel come out (typically, this will take four or more depressions). After gel is observed, fully depress the pump one more time, and discard this portion of the product to assure precise dose delivery. The pump is now primed and Gelnique is ready to use.
Figure D: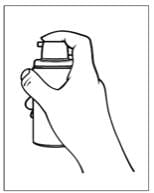 Dispensing your dose of Gelnique:
Place your hand under the Gelnique pump (see Figure E). Press the pump all the way down 1 time. You can also place the pump right over the application site then press the pump all the way down 1 time to dispense your dose. The amount of gel dispensed with one full pump equals one daily dose of Gelnique.

The amount of gel that equals your dose will be about the size of a nickel.
Figure E: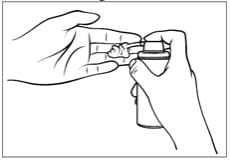 Apply the gel to your skin in the selected body area (see Figure A) and wash your hands with soap and water right away.

After you have used Gelnique pump 30 times, throw it away.