What is Mycapssa?
Mycapssa is an oral prescription medicine used in the long-term maintenance treatment of acromegaly in people for whom initial treatment with octreotide or lanreotide has been effective and tolerated.
It is not known if Mycapssa is safe and effective in children.
Who should not take Mycapssa?
Do not take Mycapssa if you:
are allergic to octreotide acetate or any of the ingredients in Mycapssa. Mycapssa can cause a serious allergic reaction including anaphylactic shock. Stop taking Mycapssa right away and get emergency help if you have any of these symptoms:

swelling of your tongue, throat, lips, eyes or face
severe itching of the skin with rash or raised bumps
chest pain
trouble swallowing or breathing
feeling faint
rapid heart beat
See the end of this guide for a complete list of ingredients in Mycapssa.
What should I tell my healthcare provider before taking Mycapssa?
Before you take Mycapssa, tell your healthcare provider about all of your medical conditions, including if you:
have liver cirrhosis or liver problems
have kidney problems
are pregnant or plan to become pregnant. It is not known if Mycapssa will harm your unborn baby. Mycapssa may increase your chance of becoming pregnant.
are breastfeeding or plan to breastfeed. It is not known if Mycapssa passes into your breast milk. Talk to your healthcare provider about the best way to feed your baby if you take Mycapssa.
Tell your healthcare provider about all the medicines you take, including prescription and over-the-counter medicines, vitamins, and herbal supplements.
Mycapssa may affect the way other medicines work, and other medicines may affect how Mycapssa works.
Especially tell your healthcare provider if you take oral contraceptives. Use an alternative non-hormonal method of contraception or a back-up method while taking Mycapssa.
Know the medicines you take. Keep a list of them to show your healthcare provider and pharmacist when you get a new medicine.
How should I take Mycapssa?
Read the detailed instructions for use at the end of this Patient Information about the right way to take Mycapssa.
Take Mycapssa exactly as your healthcare provider tells you to take it.
Take Mycapssa with a glass of water on an empty stomach.
Take Mycapssa at least 1 hour before a meal or at least 2 hours after a meal (for example, you could take your morning dose 1 hour before breakfast and your evening dose at bedtime).
Swallow the capsules whole. Do not crush or chew the capsules before swallowing.
What are the possible side effects of Mycapssa?
gallbladder problems. Mycapssa may cause problems with the gallbladder. Tell your healthcare provider if you have sudden pain in your upper right stomach (abdomen), sudden pain in your right shoulder or between your shoulder blades, yellowing of your skin or the whites of your eyes, fever with chills, nausea
blood sugar problems. Mycapssa may cause you to have high blood sugar (hyperglycemia), low blood sugar (hypoglycemia), or diabetes. Tell your healthcare provider if you have problems with high or low blood sugar. Your healthcare provider will check your blood sugar when you start taking Mycapssa or when your dose is changed.
thyroid problems. Mycapssa may keep your thyroid from releasing thyroid hormones leading to hypothyroidism. Your thyroid function will be checked regularly during your treatment with Mycapssa.
heart rhythm problems. Tell your healthcare provider if you have an irregular heartbeat (your heart is not beating normally).
low vitamin B12 levels in your blood. Your healthcare provider may check your vitamin B12 levels during treatment with Mycapssa.
The most common side effects of Mycapssa include:
headache
nausea
diarrhea
joint pain
weakness
sweating a lot
These are not all the possible side effects of Mycapssa. For more information, ask your healthcare provider or pharmacist.
Call your doctor for medical advice about side effects. You may report side effects to FDA at 1-800-FDA-1088.
General information about the safe and effective use of Mycapssa
Medicines are sometimes prescribed for purposes other than those listed in a Patient Information. Do not use Mycapssa for a condition for which it was not prescribed. Do not give Mycapssa to other people, even if they have the same symptoms you have. It may harm them.
You can ask your pharmacist or healthcare provider for information about Mycapssa that is written for health professionals.
How should I store Mycapssa?
Before first use, store unopened wallets of Mycapssa in a refrigerator between 36°F to 46°F (2°C to 8°C).
Do not freeze.
After first use, store opened wallets at room temperature between 68°F to 77°F (20°C to 25°C) for up to 1 month.
Keep Mycapssa and all medicines out of the reach of children.
What are the ingredients in Mycapssa?
Active ingredient: octreotide acetate
Inactive ingredients: polyvinylpyrrolidone (PVP-12), sodium caprylate, magnesium chloride, polysorbate 80, glyceryl monocaprylate, glyceryl tricaprylate, gelatin, gelatin capsules, and Acryl-EZE (methacrylate).
For more information about MYCAPSSA call the product information department at 1-844-312-2462 or go to www.MYCAPSSA.com and select patient information.
Instructions for use for Mycapssa
Mycapssa [MY (as in sky)-CAP-SAH]
Octreotide delayed-release capsules, for oral use.
Read this Instructions for Use before you start taking Mycapssa and each time you get a refill. There may be new information. This information does not take the place of talking to your healthcare provider about your medical condition or treatment. Talk to your healthcare provider or pharmacist if you have any questions about how to use Mycapssa.
Important information:
Each Mycapssa wallet contains twenty-eight 20-mg capsules. The number of wallets required in a 28-day period depends on your prescribed dose.
How to Use the Mycapssa Wallet
Each Mycapssa wallet has a locking mechanism that helps to keep the medicine away from children.
Become familiar with using the Mycapssa wallet so you will know how to use it the right way.
To open the wallet:
Step 1. With your left thumb, gently press the tip of the release button on the left side of the wallet (see Figure A).
Step 2. While holding the release button, grasp the medicine card at the notch on the right side and pull it out (see Figure A).
Step 3. Unfold the medicine card (see Figure A).

Figure A: How to Open the Mycapssa Wallet
How to Remove a Capsule from the Mycapssa Wallet
Capsules need to be removed carefully, because if they are cracked or broken they may not be as effective. Follow these instructions to easily remove capsules without damaging them.
Place the tip of a thumb at the edge of a capsule's plastic cavity (see Figure B).
Gently push the capsule until it is removed. Collect the removed capsule in your hand.
Do not use two thumbs to push a capsule as this could damage it.
Do not press the middle of a capsule. This could also damage it.
If a capsule is cracked or broken, throw it away (discard it) and remove another capsule.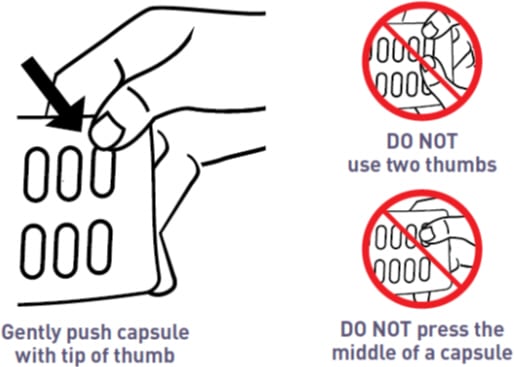 Figure B: How to Remove a Capsule from the Medicine Card Inside the Mycapssa Wallet