Bruising and Bleeding
Reviewed by Medicine.com on May 17, 2022
Written by Carmen Fookes, BPharm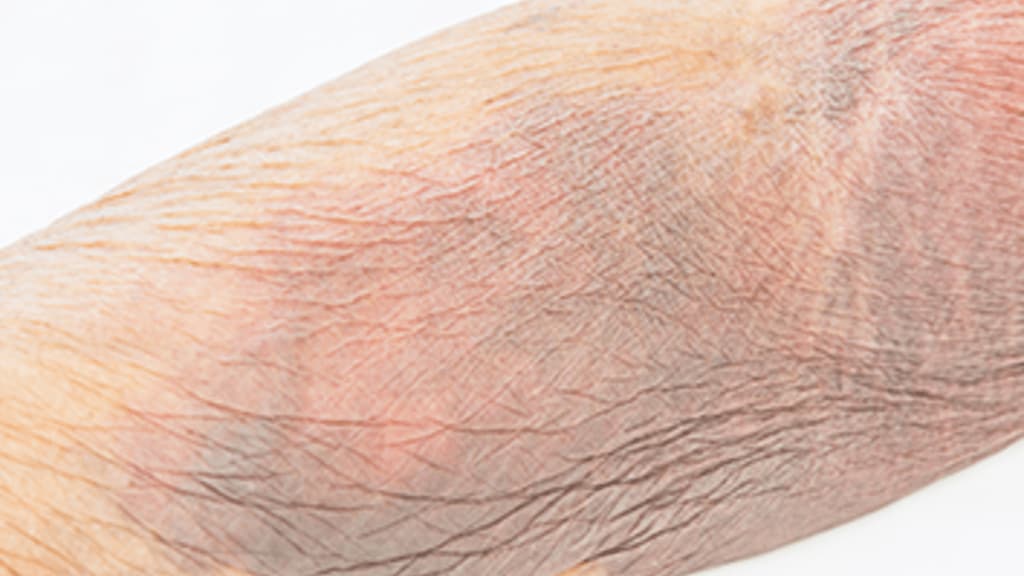 Everybody gets bruises or bleeds at some point. Bruises result from blood pooling under the skin after an injury and are common on areas such as the arms and legs. People often bruise more easily as they get older. Bleeding happens when blood vessels are broken because of a cut, medical event, or injury, but can also be a normal part of life, for example, menstruation (periods) in women. Knowing when a bruise or an instance of bleeding is normal and to be expected versus one that requires further investigation is important.
Normal Vs Abnormal Bruising or Bleeding
Bruising or bleeding after an injury is normal but there are some medical conditions or genetic disorders that cause people to bruise or bleed too easily or bruise or bleed spontaneously, without any triggering event or injury. The most common places for spontaneous bleeding are the nose, mouth, and the digestive tract.
Hemophilia is a condition in which the ability of the blood to clot is severely reduced, causing a person to bleed severely from even a slight injury, usually into their joints or muscles. It is usually caused by a hereditary lack of a coagulation factor, most often factor VIII. Most often, bleeding is minor, but it can be severe enough to be life-threatening.
Symptoms of Unusual Bleeding or Bruising
Bruising in unusual places, such as the back, or hands
Bruises that take a long time to fade
Bruising without damage to that part of the body
Excessive bleeding after tooth brushing or flossing
Excessive or prolonged menstrual blood flow (menorrhagia)
Multiple bruises
Prolonged bleeding after minor cuts, or after blood has been taken
Prolonged bleeding after surgery or dental procedures
Tiny red or purple dots on the skin (petechiae)
Other unusual skin markings, such as red or purple patches (purpura), many bruises (ecchymoses), or visible blood vessels (telangiectasias).
Causes of easy bruising or bleeding
Problems with bruising and bleeding are often inherited and show up early in life. Other common causes of excessive bruising or bleeding include:
Clotting disorders such as hemophilia A or B or Von Willebrand disease
Cushing's syndrome
Ehlers-Danlos syndrome (EDS)
Leukemia
Liver disease
Low platelet counts
Medications, such as aspirin, NSAIDs, blood thinners, or some herbal medicines
Poor nutrition or vitamin deficiencies.
When to Talk to Your Doctor
Talk to your doctor if you have:
Bleeding that doesn't stop after 10 minutes
Bruising that occurs in unusual places or takes a long time to resolve
Excessive bleeding from minor cuts or cuts take a long time to stop bleeding
Family members who also have problems with bruising or bleeding
Large or frequent bruises that you can't remember getting
More than five nosebleeds in a year
Periods that last more than seven days or periods that are so heavy that you have to change your pad more than every two hours.
Your doctor may take a blood test to see if there is any reason for your easy bruising or bleeding.
Treatment of Bruises or Bleeding
Treatment depends on whether the bruising or bleeding is excessive, severe, or persistent and the underlying cause. Treatment options may include:
Blood or platelet transfusions
Fresh frozen plasma
Giving vitamins or other supplements to correct a deficiency
Stopping medications that might be contributing to the bruising and bleeding
Treating any cancers or infections
People with liver disease are sometimes given vitamin K or fresh frozen plasma transfusions.
Article references
Easy Bruising and Bleeding. Am Fam Physician. 2016 Feb 15;93(4) https://www.aafp.org/afp/2016/0215/p279-s1.html
Bruising in leukaemia VS ordinary bruising. 2022. Leukemia Care. https://www.leukaemiacare.org.uk/support-and-information/latest-from-leukaemia-care/blog/spotting-the-difference-bruising-in-leukaemia-vs-ordinary-bruising/