Zinc: a food guide
Reviewed by Medicine.com on June 30, 2021
Written by Cara Le Mouton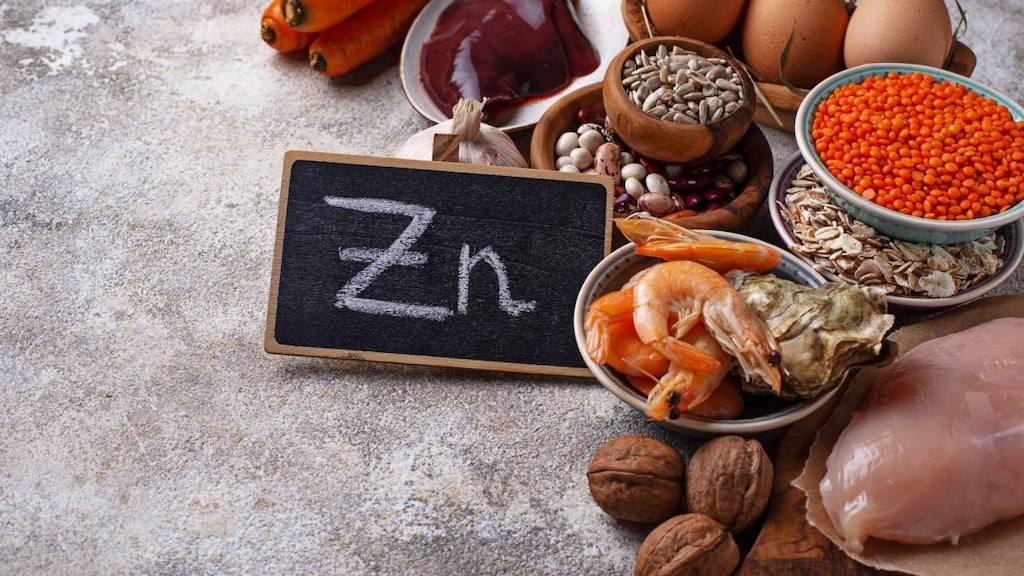 Zinc is an essential micronutrient that exists naturally in some foods. It is not made or stored in the body, instead zinc is absorbed from what we eat. Zinc plays a key role in the health of your immune system and other body functions.
Zinc is found in cells throughout the body. It is necessary for enzyme activity, and the production of protein and DNA, the genetic material in all cells. It also aids a healthy immune system to fight off infection. Some studies suggest that zinc may help shorten the symptoms of the common cold, however, more research is needed to prove this.
Zinc:
Is necessary for healthy skin and may help in reducing acne, psoriasis and ulcers
Helps our sense of smell and taste
Is important for growth and development in infants and children
May accelerate wound healing
May slow down the progression of age-related macular degeneration
May prevent childhood diarrhea in developing countries.
A healthy well-balanced diet full of zinc-rich foods is essential for getting your recommended daily intake of zinc. Sometimes it may also be necessary to boost your zinc intake with supplements, especially if you're pregnant, have Crohn's disease or have a diet lacking in zinc.
Best food sources for Zinc
Zinc is found in a wide range of foods with seafood, red meat, poultry, beans, nuts, whole grains, fortified cereals, and dairy products being among the best sources.
Eating a healthy diet consisting of a variety of plant and animal foods that naturally contain zinc, as well as foods fortified with zinc, can help you reach your daily zinc requirements.
Fruits and vegetables provide a small amount of zinc, but generally not enough to get your recommended daily intake.
The recommended daily intake of zinc for adults is 11 mg for men and 8 mg for women. During pregnancy and breastfeeding zinc requirements increase and 11-12 mg per day is needed.
Zinc-rich foods include:
| | |
| --- | --- |
| Foods | Zinc per serving (mg) |
| Oysters, cooked, breaded, and fried (3 oz/85g) | 74 |
| Rock oysters (3.5 oz/100g) | 20 |
| Beef chuck roast, braised (3oz/85g) | 7 |
| Crab, Alaska king, cooked (3oz/85g) | 6.5 |
| Beef patty, broiled (3oz/85g) | 5.3 |
| Lobster, cooked (3oz/85g) | 3.4 |
| Pork chop, loin, cooked (3oz/85g) | 2.9 |
| Baked beans, canned or plain ½ cup | 2.9 |
| Breakfast cereals, fortified with 25% of the daily value requirement (1 serve as per package label) | 2.8 |
| Chicken, cooked (3oz/85g) | 2.4 |
| Pumpkin seeds, dried (1oz/28g) | 2.2 |
| Yogurt, fruit, low fat (8oz/227g) | 1.7 |
| Cashews, dry roasted (1oz/28g) | 1.6 |
| Chickpeas, cooked (½ cup) | 1.3 |
| Cheese, swiss (1oz/28g) | 1.2 |
| Oatmeal, instant, plain, prepared with water (1 packet) | 1.1 |
| Milk, low-fat or non-fat (1 cup) | 1.0 |
| Almonds, dry roasted (1oz/28g) | 0.9 |
| Kidney beans, cooked (½ cup) | 0.9 |
| Chicken breast, roasted, no skin (½ breast) | 0.9 |
| Cheese, cheddar, or mozzarella (1oz/28g) | 0.9 |
| Peas, green, frozen, cooked (½ cup) | 0.5 |
| Flounder or sole fish, cooked (3oz/85g) | 0.3 |
Dietary supplements
Some people will find that they don't get enough zinc and these people may benefit from adding a zinc supplement to their diet.
You may need to take a zinc supplement if you:
Have had gastrointestinal surgery or suffer from ulcerative colitis or Crohn's disease, as these conditions may prevent your body from absorbing enough zinc from food.
Follow a vegetarian diet that includes high amounts of legumes and whole grains. These contain phytates that reduce zinc absorption.
Are pregnant, as extra zinc is needed for the growth and development of the fetus.
Zinc is included in many multivitamin and mineral supplements. It is typically listed on product labels as zinc acetate, zinc gluconate or zinc sulfate. Research suggests that the different forms of zinc are equally effective.
Zinc supplements are available in capsule, tablet, and lozenge forms. Avoid any nasal sprays or gels that contain zinc, as they have been linked to a loss of sense of smell.
Consult a healthcare provider for information about what zinc supplements and dosage are best for you.
Zinc supplementation for COVID-19 prevention
There has been interest in using zinc supplements to help combat COVID-19. Currently the US National Institute of Health (NIH) recommends against using zinc supplements above the recommended daily dietary allowance to protect against COVID-19, except as part of a clinical trial.
Researchers have been investigating the use of zinc supplementation for COVID-19 because zinc has been shown to be effective against RNA viruses in the lab. When combined with medications such as chloroquine, which improve the absorption of zinc, zinc is thought to be even more toxic to viruses.
Research is still ongoing to determine whether zinc supplementation is beneficial for COVID-19.
Tips to gain the maximum benefits from zinc
Eat a well-balanced diet that consists of zinc-rich foods such as oysters, red meat, poultry, beans, legumes, and fortified cereals.
If you follow a vegetarian diet, are pregnant, or suffer from a condition such as Crohn's disease you may need a supplement to prevent zinc deficiency.
Do not exceed your daily zinc requirement or take more than 40mg of extra zinc a day. Side effects of too much zinc include nausea, vomiting, stomach cramps, diarrhea, loss of appetite, and headaches. Long-term supplementation with zinc can also lead to copper deficiency and other issues.
Take iron supplements, and grains and legumes that contain phytates, at least two hours before or after taking zinc supplements so that they do not hinder the absorption of zinc.
Too much fiber in your diet can also hinder the absorption of zinc.
Consult a healthcare professional if you have any concerns about your zinc intake, especially if you take medications such as penicillamine (Cuprimine), tetracyclines, and quinolones. Zinc may inhibit the absorption of these medications.