Achalasia is a disorder in which the rhythmic contractions of the esophagus (called peristalsis) are missing or impaired, the lower esophageal sphincter does not relax normally, and the resting pressure of the lower esophageal sphincter is increased.
This cause of this disorder usually is not known, but it may occur after exposure to some viruses.
The main symptoms of achalasia are trouble swallowing, spitting up of liquid and food, chest pain, and weight loss.
The diagnosis is based on results of manometry and barium swallow x-rays.
Treatment is aimed at relieving symptoms by dilating the lower esophageal sphincter with a balloon or cutting the muscle fibers of the sphincter, and sometimes by injecting botulinum toxin.
The esophagus is the hollow tube that leads from the throat (pharynx) to the stomach. (See also Overview of the Esophagus.) The lower esophageal sphincter is the ring of muscle that holds the bottom of the esophagus closed so that food and stomach acid do not flow back up the esophagus. When people swallow, this sphincter normally relaxes to allow food into the stomach.
How the Esophagus Works
As a person swallows, food moves from the mouth to the throat, also called the pharynx (1). The upper esophageal sphincter opens (2) so that food can enter the esophagus, where waves of muscular contractions, called peristalsis, propel the food downward (3). The food then passes through the diaphragm (4) and lower esophageal sphincter (5) and moves into the stomach.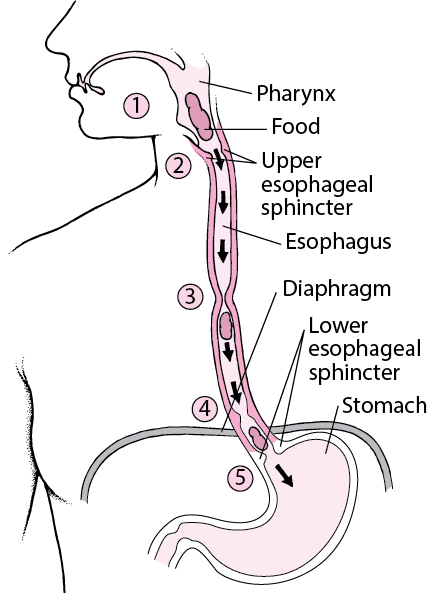 Achalasia may occur at any age but usually begins, almost unnoticed, between the ages of 20 and 60 and then progresses gradually over many months or years.