Checking for ovarian cancer: Screening and test options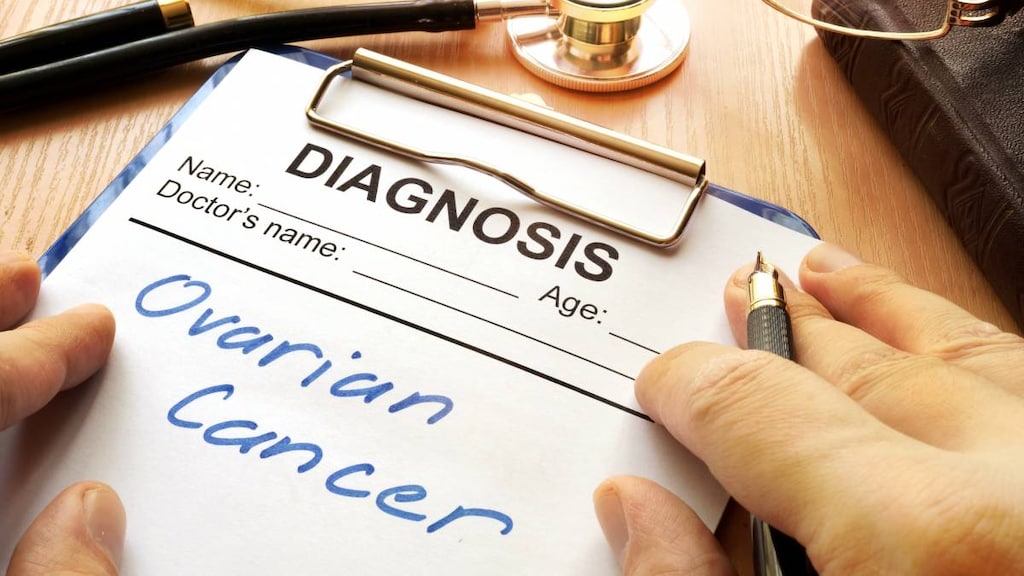 Ovarian cancers are a type of cancer that begins in the ovaries, the egg-producing female reproductive organs. In some cases it may also begin in the far end of the fallopian tubes.
Ovarian cancers are a type of cancer that is very curable if caught at an early stage. However because the early signs of ovarian cancer are vague and often mistaken for other less serious conditions, it is common for ovarian cancer to have reached quite an advanced stage before it is diagnosed.
Ovarian cancer is the fifth most deadly type of cancer in women overall and the most deadly cancer of the female reproductive system.
It's easy for the early symptoms of ovarian cancer to go unnoticed, or to be attributed to other less serious conditions. Knowing the symptoms to watch out for and visiting your doctor if they develop is important.
Symptoms ovarian cancer include:
Abdominal (stomach/belly) pain or pelvic pain
Abdominal swelling, increased abdominal size or bloating
Difficulty eating and feeling full quickly
Needing to urinate frequently or urgently
Fatigue/malaise - feeling tired all the time
Constipation and other changes in bowel habits
Lower back pain
Nausea and vomiting
Weight loss
Pain during intercourse
Menstrual changes, including irregular or heavier bleeding
If you have symptoms of ovarian cancer, it's important to see your doctor
Before carrying out a physical examination and other tests for ovarian cancer, your doctor will begin by taking a medical history. Taking a medical history includes asking about your symptoms, how long you've had symptoms, your risk factors for ovarian cancer and family history.
If your doctor suspects you may have ovarian cancer various examinations and tests can be carried out to help diagnose the condition. There is no one screening test that is used to diagnose ovarian cancer.
A gynecologic oncologist - an obstetrician/gynecologist specially trained in treating cancer of the female reproductive system - will usually take over your care if you need treatment for ovarian cancer.
What examinations and tests are used to screen for ovarian cancer?
A range of tests are commonly used to pick up ovarian cancer including:
Pelvic exams
Pelvic exams are a routine examination carried out by an obstetrician-gynecology or other primary-care doctor.
Pelvic exams involve your doctor looking at and feeling your internal sexual organs. During a pelvic exam the size, shape and feel of the uterus and ovaries is checked. Your doctor will check for any signs of fluid in your abdomen (stomach) and will feel your ovaries to see if they're enlarged.
To check your uterus and ovaries your doctor will insert two fingers into your vagina while at the same time placing their other hand on your abdomen. A rectovaginal pelvic exam may also be necessary. This involves inserting one finger into the vagina and another finger into the rectum.
A pelvic exam is an initial part of the process to detect ovarian cancer and is used alongside other tests. It is very rare that this examination would detect early-stage ovarian cancer.
Pelvic exams are also used to diagnose a whole range of conditions including cervical polyps, uterine fibroids, pelvic inflammatory disease, genital warts, fungal and bacterial infections, and some other gynecologic cancers.
Ovarian cancer imaging tests
A range of imaging tests may be used when checking for ovarian cancer. Transvaginal ultrasound (TVUS) is a commonly used imaging method used for screening for ovarian cancer. However, it may be necessary to have other types of imaging tests too, especially if your doctor is concerned that cancer may have spread or metastasized to other parts of your body.
Transvaginal ultrasound
TVUS is a diagnostic imaging test that uses high-energy sound waves to detect any tumors, or other abnormalities such as fluid-filled cysts. It is usually one of the first tests done when a problem with the ovaries arises.
TVUS is used to check the size and appearance of the ovaries and can also be used to look for abnormalities in the fallopian tubes, uterus, vagina and bladder. TVUS can be used to help determine how big the ovaries are and what they look like on the inside.
During a TVUS an ultrasound technician or your doctor will insert a probe into your vagina. The probe is used to generate images of the organs and tissues, which are displayed on a screen. While TVUS can be used to pick up a mass, it can't tell whether a mass is benign (non-cancerous) or malignant.
Computer tomography (CT) scan
A CT scan can also be used to identify the exact location of a tumor prior to surgery. A CT scan is usually performed after a pelvic exam, or in some cases an ultrasound, has picked up a tumor.
Small tumors do not show up well on a CT scan, but larger ones can be seen. A CT scan is a type of x-ray that takes multiple pictures, providing a 360 degree view of an organ.
CT scans can help determine the size of any tumors, whether lymph nodes are enlarged or other organs have also been affected.
Magnetic resonance imaging (MRI)
An MRI scan may also be performed during the diagnostic process. An MRI is particularly useful to help detect if cancer has spread to the brain, spinal cord or other areas of the body.
MRIs use powerful magnets and the body's own magnetic properties to produce detailed cross-section images of the body. An MRI is able to provide clearer images of soft tissue than a CT scan can.
Positron emission tomography–computed tomography (PET CT) scan
PET CT scans may be used during testing for ovarian cancer. This type of scan combines images from a PET scan with those of a CT scan and provides highly detailed information about both the functional and anatomical aspects of tumors. Like an MRI scan, a PET CT scan can also help determine if ovarian cancer has spread to other areas of the body
A PET scan is a type of molecular imaging. This type of scan looks at how the body functions and it is able to detect cellular abnormalities before structural changes can be seen on CT or MRI scans.
A PET scan involves injecting a radiotracer, which is a combination of a simple sugar and radioactive fluorine, into a patient. An imaging device called a PET scanner is then used to see where the radiotracer has accumulated.
Cancer cells are very active and absorb more of a simple sugar called glucose than normal cells do. Cancer cells also absorb the radiotracer more than normal cells do and show up as 'hot spots' on the PET scanner because of the small amount of radioactive fluorine used.
X-ray
Chest x-rays may also be used in patients with ovarian cancer to see if the disease has spread to the lungs.
A barium enema x-ray is another type of x-ray that may be used to see if cancer has spread to the colon or rectum. Barium enema x-rays are rarely used in women with ovarian cancer, however. It is more common that a colonoscopy would be performed instead.
Ovarian cancer biopsy
If a mass is detected then an ovarian biopsy is used to determine if the tumor is malignant or benign. A biopsy involves taking a sample of tissue or fluid and having a pathologist analyze it in the lab using a microscope or other tests.
An ovarian biopsy typically involves removing the mass or tumor during surgery and examining a sample of the tissue.
A laparoscopy procedure or a needle inserted into the mass are two other methods for obtaining an ovarian biopsy, although they are rarely used. During a needle biopsy, ultrasound or a CT scan is used to guide the needle. This type of biopsy is usually used when the cancer is thought to be advanced, the patient has certain other medical conditions or there is a concern that a biopsy could help spread the cancer. A needle biopsy guided by CT scan is more commonly used to biopsy a tumor that has spread, rather than an ovarian tumor itself.
If fluid has built up in the abdomen (ascites), then a sample of the fluid may also be taken to check for cancer cells via a procedure called paracentesis. To obtain a sample of the fluid, the skin on the stomach is numbed and a needle is inserted into the abdominal cavity. A syringe is then used to draw up the fluid. Ultrasound may also be used to guide the needle during this procedure.
Ovarian cancer blood tests
Blood tests are also a part of the screening process for ovarian cancer. A commonly used blood test is one that measures levels of a protein called CA-125. Levels of the CA-125 protein are elevated in many women with ovarian cancer.
It's important to remember that other conditions such as pelvic inflammatory disease and endometriosis can also cause elevated levels of CA-125 and some women with ovarian cancer will have normal levels of CA-125. This means that this blood test needs to be used in combination with other screening methods to confirm a diagnosis of ovarian cancer.
There are three main types of cells that make up the ovaries including epithelial, germ and stromal cells. Each cell type can develop into a different tumor type. About 90 percent of ovarian cancers are epithelial ovarian tumors, but if germ or stromal tumors are suspected then additional blood tests may be suggested.
Blood tests may also be carried out to check for elevated levels of human chorionic gonadotropin (HCG), alpha-fetoprotein (AFP), and/or lactate dehydrogenase (LDH), which are tumor markers that are elevated in ovarian germ cell cancers. If an ovarian stromal tumor is suspected, then blood tests for inhibin, estrogen and testosterone may also be ordered as these can be elevated.
Genetic testing for ovarian cancer
Genetic testing may be offered following a diagnosis of ovarian cancer to see if you have any genetic mutations that are linked to ovarian and other cancers.
The results of genetic testing can be used to help direct treatment and identify patients who may be at risk of other types of cancer, such as breast cancer or Lynch syndrome (hereditary non-polyposis colorectal cancer, HNPCC).
If you have a gene mutation other blood relatives might also have it too. They may also benefit from genetic testing to see if they are also at increased risk. Before undergoing genetic testing it can be helpful to speak with a genetic counselor or another qualified healthcare professional.
BRCA1 and BRCA2 mutations are two mutations associated with ovarian cancer that also put a woman at increased risk of breast cancer, so testing for these may be part of the genetic testing offered after an ovarian cancer diagnosis. BRCA stands for BReast CAncer. If you have these mutations there are ways to lower your risk of developing breast cancer.
Depending on the type of ovarian cancer you have you may also be offered testing to see if you have high levels of mutations in microsatellites - microsatellite instability (MSI). Microsatellites are short, repeated sequences of DNA. Cancer cells with MSI lack the ability to correct mistakes that occur in DNA when it is copied in a cell.
Genetic screening may also look for other mutations such as ones occurring in the mismatch repair (MMR) genes MSH2, MLH1, MSH6 and PMS6, NTRK genes and ATM, BRIP1 and RAD51C/RAD51D.
Ovarian cancer screening guidelines - who should be tested?
If you have no symptoms of ovarian cancer and aren't at high risk of the disease then routine screening is not recommended. Screening of women at average risk using TVUS and CA-125 results in further testing and sometimes surgery, but it does not reduce how many women will die from ovarian cancer, according to studies. An annual pelvic exam, however, is recommended.
Some organizations will offer TVUS and CA-125 screening to women at high risk. Screening these patients using currently available methods has not been shown to reduce the risk of dying from ovarian cancer.
Screening for ovarian cancer in women with the mismatch repair genes MLH1, MSH2 and MSH6, or a BRCA1 mutation, is recommended to begin between 30 and 35 years of age. In women with a BRCA2 mutation, screening is recommended to begin between 35 and 40 years of age. Screening is typically performed every 6-12 months.
Will a Pap smear test pick up ovarian cancer?
A Pap smear test is not intended as a screening test for ovarian cancer. A Pap test is for picking up cervical cancer, not ovarian cancer.
Bottom line
A pelvic exam, a TVUS and a blood test for CA-125 are commonly used methods for screening for ovarian cancer.
Current screening methods for ovarian cancer have limitations and are not routinely offered to all women. False positives and false negatives are possible.
Because screening methods can be unreliable, women at high-risk of breast and ovarian cancers may consider a prophylactic oophorectomy (surgical removal of the ovaries) to significantly reduce their risk of developing such cancers.
Further research needs to be done to help develop new screening methods for ovarian cancer.
Early detection and an accurate diagnosis improves ovarian cancer survival rates.