Early warning signs of ovarian cancer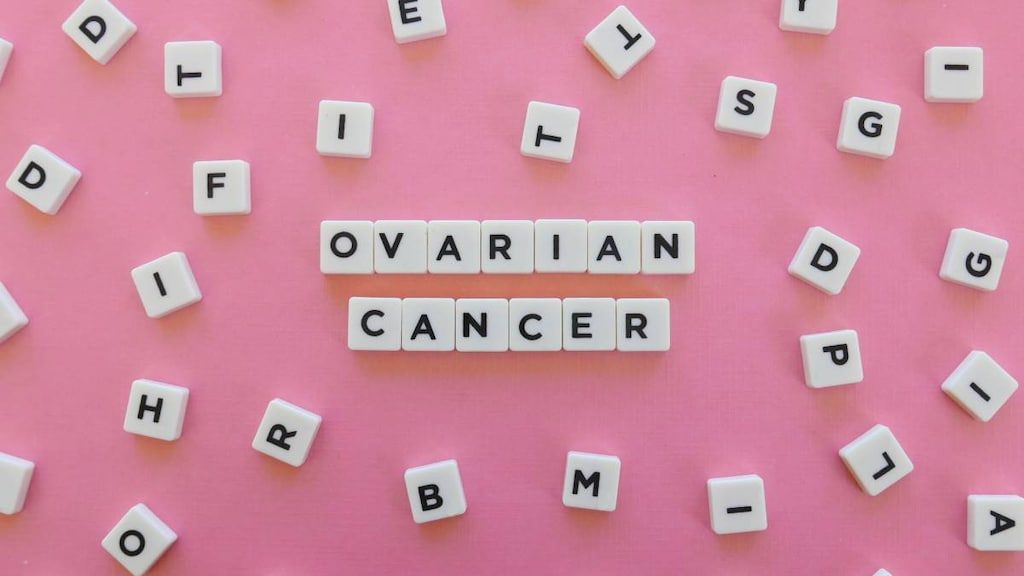 Ovarian cancers are a type of cancer that affects women. Ovarian cancers start when cells begin to grow out of control in the ovaries, or possibly the far end of the fallopian tubes. These cells grow to form a tumor, which can spread to other parts of the body if left untreated.
The ovaries are the female reproductive glands which produce eggs. Eggs travel from the ovaries via the fallopian tubes to the uterus, where fertilization can occur and a fetus may grow. One ovary sits on each side of the uterus. A small opening called the cervix, connects the uterus to the vagina. Ovaries are also the primary source of estrogen and progesterone, two female hormones.
There are three main types of cells that make up the ovaries including epithelial, germ and stromal cells. Each cell type can develop into a different tumor type. Some types of ovarian tumors are not cancerous (benign), while others are malignant or cancerous and may metastasize, spreading to other parts of the body.
Only roughly 20 percent of ovarian cancers are detected at an early stage (stage 1). In about 94 percent of the cases where ovarian cancer is found early, the patients live for longer than 5 years after diagnosis. By the time ovarian cancer reaches stage 3, a more advanced stage of the disease, the 5-year survival rate is only about 39 percent. About 60 percent of patients have stage 3 disease by the time they are diagnosed with ovarian cancer.
Ovarian cancers can initially cause no or very subtle symptoms, meaning that the disease may go undetected for some time. In addition, certain types of ovarian cancer, such as high grade serous carcinoma, can grow and spread rapidly, giving little time for the disease to be picked up during the early stages.
What are the first symptoms of ovarian cancer?
The early warning signs of ovarian cancer can be easy to disregard and are often not gynecological in nature, despite the ovaries being part of the reproductive system.
While the early symptoms can be easy to dismiss or attribute to another less serious cause, ovarian cancer is not the 'silent disease' it was once thought to be.
Early symptoms of ovarian cancer include:
Abdominal (stomach/belly) pain or pelvic pain
Abdominal swelling, increased abdominal size or bloating
Difficulty eating and feeling full quickly
Needing to urinate frequently or urgently
It's important to note that many women who have these symptoms will not have ovarian cancer. A less serious condition will likely be the cause of the symptoms, but it's still important to get them checked out by your healthcare provider.
Other symptoms of ovarian cancer that may develop include:
Fatigue/malaise - feeling tired all the time
Constipation and other changes in bowel habits
Lower back pain
Nausea and vomiting
Weight loss
Pain during intercourse
Menstrual changes, including irregular or heavier bleeding
How to tell if you have ovarian cancer
Keep an eye out for symptoms and see a healthcare professional if symptoms:
Develop that are new
Persist for several weeks - occurring more than 12 times per month
Are getting worse
Seeking help is especially important if you're a woman aged 50 years or over, or are otherwise at higher risk of the disease.
Screening tests and a complete pelvic exam can be used to help diagnose ovarian cancer, although early ovarian cancer can be difficult to detect with a pelvic exam and current screening tests are not foolproof.
The two most commonly used screening methods are:
Transvaginal ultrasound (TVUS). TVUS uses sound waves to detect any tumors, but it can't tell whether they're benign or malignant.
CA-125 blood test. This blood test measures the levels of a protein found in the blood called CA-125. This protein is elevated in many women with ovarian cancer, however, some women with ovarian cancer won't have elevated levels and other conditions such as pelvic inflammatory disease and endometriosis can also cause elevated levels of this protein.
Cervical cancer screening tests are also not effective at detecting ovarian cancer, although in rare instances a Pap test may detect very advanced disease.
Bottom line
Ovarian cancer is the most deadly cancer of the female reproductive system and the fifth most deadly type of cancer among women overall. However, if ovarian cancer is caught early, it is a treatable disease.
The vague nature of its early symptoms and the lack of reliable screening methods that can be used to routinely detect ovarian cancer, such as those used for cervical cancer, means that patients often have advanced disease and a worse prognosis by the time ovarian cancer is picked up.
It's important to be aware of the early symptoms of ovarian cancer and if they persist to visit your healthcare provider.