Gestational diabetes diet guide
Reviewed by Medicine.com on June 8, 2022
Written by Cara Le Mouton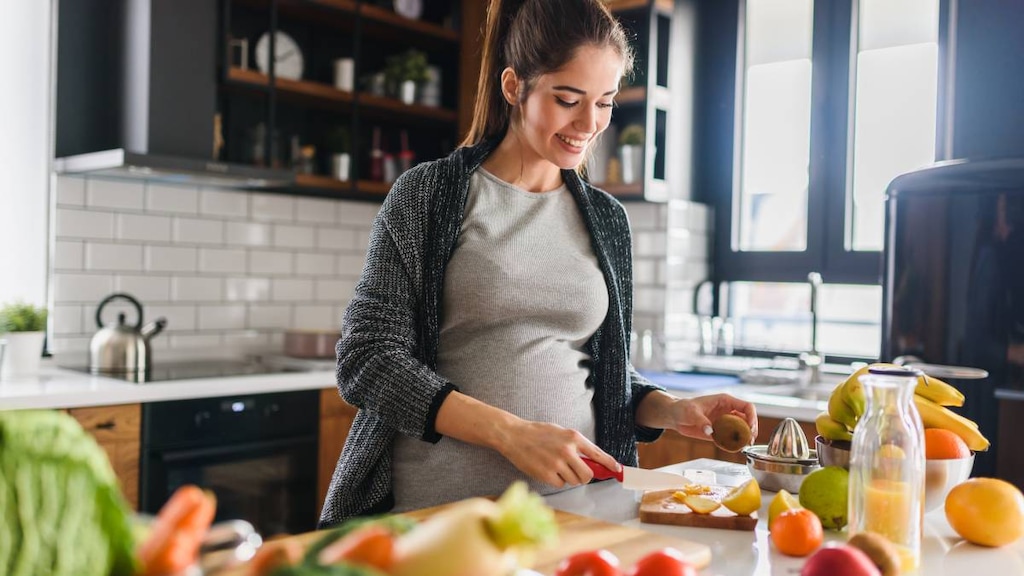 Gestational diabetes mellitus is a type of diabetes that can occur during pregnancy. Diabetes develops when your body has an issue with a hormone called insulin, which causes your blood sugar (glucose) levels to become too high.
Sugar is released into your bloodstream when your body breaks down the carbohydrates in your food. Insulin usually helps move sugar from your bloodstream into your cells, where it is used for energy.
When you are pregnant, your pregnancy hormones can sometimes interfere with insulin, causing insulin resistance, leading to high blood sugar levels and gestational diabetes.
Many people are able to make at least three times the amount of insulin they usually make when they are pregnant, which prevents blood sugar levels from becoming too high. But, in about 5 percent of cases enough insulin isn't produced and gestational diabetes develops.
Gestational diabetes most often develops between weeks 24 and 28 of pregnancy, so your healthcare provider will screen you for gestational diabetes about that time.
High blood sugar levels can cause pregnancy complications
High blood sugar levels can cause complications during pregnancy, labor, and delivery if left untreated including:
Macrosomia - an extra-large baby weighing more than 9 lb, which can cause problems during labor and delivery
Cesarean section (C-section)
Preeclampsia (high blood pressure), which may result in your baby needing to be born prematurely
Miscarriage or stillbirth
Low blood sugar (hypoglycemia) in the baby after birth
Breathing problems in the baby after birth
Jaundice - too much bilirubin in the baby's blood after birth, which can cause yellowing of the skin and whites of the eyes, and other complications
Low calcium and magnesium levels in the baby after birth, which can cause muscle spasms, cramping and twitching
The good news is that gestational diabetes can usually be managed with a healthy diet and lifestyle changes. If you develop gestational diabetes, it's important to keep active and eat a healthy, well-balanced diet that helps keep your blood sugar levels under control.
Some people, however, may need medication if diet and exercise alone isn't enough.
Getting started on a gestational diabetes diet
Eat three meals a day and two to three snacks a day to avoid spikes or dips in your blood sugar levels
Plan your meals to help keep you on track
When you're filling up your plate, fill half of it with vegetables, one quarter with starch and one quarter with protein
Eat plenty whole fruits and vegetables
Eat moderate amounts of healthy fats and lean protein
Eat moderate amounts of whole grains and starchy vegetables
Eat and drink little that contains a lot of sugar. Keep hydrated with water instead.
Monitor your blood sugar levels with a blood glucose monitor as directed by your healthcare provider. Keep a record of how your diet affects your blood sugar levels.
Below is our guide to the different types and amounts of food you should eat if you have gestational diabetes to help get you started. Remember to work with your dietitian or healthcare professional to come up with the best plan for you.
Carbohydrates are an important part of a healthy diet for people with gestational diabetes
Carbohydrates are a type of macronutrient. They are generally broken down when digested into simple sugars like glucose to provide you with energy. If you have gestational diabetes you need to eat enough carbohydrate to provide you with energy, but not so much that you end up with high blood sugar levels.
Carbohydrates come is three main forms:
Sugars. Sugars are a type of simple carbohydrate. These are found in healthy and unhealthy diets including in:

Fruits
Vegetables
Milk
Candy
Processed foods
Sodas

Starches. Starches are a type of complex carbohydrate that are made from lots of simple sugars linked together. They need to be broken down before your body can use the energy they provide. Complex carbohydrates include:

Breads
Cereals
Pasta
Potatoes
Peas and corn

Fiber. Fiber is a type of complex carbohydrate that your body is mostly unable to digest. This helps to make you feel full and less likely to overeat. Fiber is a substance found in plants. It is found in your diet in:

Fruits
Vegetables
Whole grains
Nuts
Beans
Seeds
What to know about eating carbohydrates if you have gestational diabetes
Fewer than half of your daily calories should come from carbohydrates.
Choose high-fiber, whole-grain carbohydrates.
Choose plenty non-starchy vegetables, as these are low in carbohydrate, but a good source of vitamins, minerals, fiber and phytochemicals. They are sometimes called 'free' foods or foods you can eat freely to fill you up.
Vegetables can be fresh, frozen or canned. Look for options without added salt or sauces containing fat.
Avoid carbohydrates that are broken down quickly such as potatoes, white rice, sweets and sodas, as these cause your blood sugar to rise rapidly.
Learn to count how many grams of carbohydrate are in different foods. Counting the amount of carbohydrate in a meal can help you eat the recommended amount.
Protein helps you feel full for longer and provides the essential nutrients your baby needs to grow
Proteins are the building blocks of life and a critical part of your diet. Proteins are chains of amino acids, which are broken down during digestion and used to repair cells and make new cells.
Proteins contain essential vitamins, minerals, and fatty acids that help support your health and your baby's development.
You can get protein from a number of different sources including:
Meat
Fish
Dry beans
Eggs
Nuts
What to know about eating protein if you have gestational diabetes
Eating protein at breakfast can help keep you full for longer.
Eating protein may help with morning sickness.
Eat lean proteins. Remove the skin and fat from meat. Roast, bake, broil or grill instead of frying.
Include a source of protein in meals and snacks.
Avoid fish high in mercury, such as swordfish, shark and marlin, and limit tuna.
Avoid raw shellfish.
Dairy products are a good source of protein, calcium and phosphorus
Dairy products, including milk are a food source of proteins, calcium and phosphorus. It's important to get enough calcium while you're pregnant.
What to know about eating protein if you have gestational diabetes
Don't forget that milk is also a carbohydrate and drinking too much at once can raise your blood sugar levels.
Choose low-fat or no-fat milk and yogurt.
Avoid yogurt that has had sugar or artificial sweeteners added.
Fats and oils provide essential fatty acids and vitamins
Healthy fats and oils are an important source of energy for growth and are vital for your baby's brain development. They are a good source of essential fatty acids and vitamins.
What to know about fats and oils if you have gestational diabetes
Limit fatty foods.
Choose healthy oils containing unsaturated fats, such as monounsaturated and polyunsaturated fats.
Avoid foods high in saturated fats, trans-fats and cholesterol, such as fast foods.
Limit butter, salad dressings, cooking oils and desserts high in fats and oils.
Foods to eat with gestational diabetes
Examples of foods to eat

One serving size guide

Carbohydrates

Grains, beans and starchy vegetables - Eat 6 or more servings a day




Whole grain breads, especially low-fat options such as tortillas, english muffins and pitas.
Whole grain cereals and crackers, including barley and oat products
Whole-grain and whole-wheat flours
Beans
Wild or brown rice
Whole wheat pastas
Starchy vegetable, such as corn, peas and potatoes

1 slice of bread or 1 english muffin
1 oz (28 grams) cereal
½ cup (105 grams) cooked pasta or rice
½ cup (105 grams) cooked, starchy vegetables
½ cup cooked oatmeal

Non-starchy Vegetables ('Free' foods) - Eat 3 to 5 servings a day minimum

Spinach
Broccoli
Baby corn
Lettuce
Carrots
Peppers
Onions
Green beans
Cucumber
Celery
Cabbage
Egg plant
Tomatoes
Mushrooms
Asparagus
Bean sprouts
Swiss chard
Squash

½ cup (170 grams) of cooked vegetables
1 cup (340 grams) of raw vegetables
¾ cup (255 grams) vegetable juice

Fruits - Eat 2 to 4 servings a day

Whole fruits are preferable to juice because of their fiber content
Apples
Bananas
Berries
Melon
Citrus fruits, such as tangerines, oranges and grapefruits
Fruit juices with no added sugar

1 medium whole fruit
½ large banana
17 small grapes
½ cup (170 grams) frozen, cooked or canned fruit (unsweetened)
¾ cup (180 ml) fruit juice (no added sugar)
¼ cup (85 grams) dried fruit

Proteins

Eat 2 to 3 servings of protein a day

Meat and poultry

Turkey
Chicken
Beef
Veal
Pork
Lamb
Wild game

2 to 3 oz (55 to 84 grams) cooked meat or poultry

Fish and shellfish

Salmon
Trout
Tilapia
Cod
Prawns
Shrimp
Tuna

2 to 3 oz (55 to 84 grams) cooked fish
Limit tuna to less than 4 medium cans a week or 2 tuna steaks a week

Other sources

Eggs
Low-fat dairy products
Nuts, including peanuts and peanut butter, walnuts, almonds and hazelnuts
Beans including black, pinto, kidney and garbanzo beans
Lentils
Split peas
Tofu
Pulses - chickpeas and lentils

1 egg
2 tablespoons (30 grams) peanut butter
½ cup (170 grams) beans, peas or lentils (is also one carbohydrate/starch serving)
½ cup tofu
2.5oz (80g) pulses

Dairy products

Dairy products - Have 3 to 4 serves a day

Low-fat or nonfat milk
Low-fat or nonfat yogurt
Cheese - natural or processed
Fromage frais
Non-dairy milk - (unsweetened and fortified with vitamins)

1 cup (240 ml) low fat milk or plain yogurt
1 ½ oz (42 grams) natural cheese
2 oz (56 grams) processed cheese

Fats and oils

Fats and oils - Use only a small amount

Use healthier oils such as olive, peanut, canola and safflower oil
Olives
Avocados
Nuts
Light salad dressing or mayonnaise
Butter or margarine

1 tsp butter or margarine
1 tsp oil
2 tbsp low-fat or light salad dressing or mayonnaise or 1 tbsp of a regular dressing
8 (28g/1oz) small olives
Foods and drinks to avoid with gestational diabetes
It may seem hard at times to avoid eating some foods, especially when you have a craving. However, it is best to avoid or limit certain foods and drinks to keep your blood sugar levels normal. Work with your dietician to find alternatives to satisfy your cravings.
If you have gestational diabetes it's recommended to limit or avoid the following:
High fat and fried food such as hamburgers, french fries, fried chicken, fried onion rings, bacon, processed meats, hotdogs, full-fat dairy - butter, margarine, ice cream, whole milk, and cream.
Sugary foods and beverages such as soda, energy drinks, fruit juice with water, lollies, candy, sweetened yogurt, muffins, cakes, chocolate, and biscuits.
Starchy foods such as potatoes, white bread, white rice, white pasta, and breakfast cereals.
Fish and raw seafood that has a high mercury content such as swordfish, shark, and marlin. Avoid raw seafood such as shellfish.
Alcoholic beverages may increase your blood sugar levels. There is no known safe amount of alcohol use during pregnancy.
Bottom line
You may be able to control your gestational diabetes with a healthy, well-balanced diet and exercise.
Remember to work with your healthcare provider or dietitian to develop an eating plan that is right for you and your baby's health.