What you need to know about the Mediterranean diet
Reviewed by Medicine.com on August 14, 2021
Written by Cara Le Mouton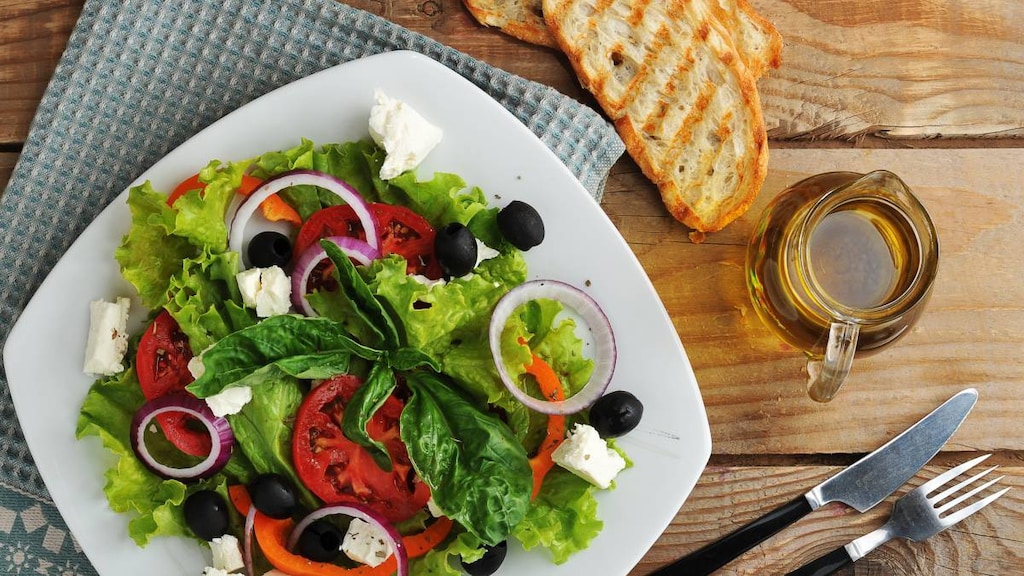 The Mediterranean diet is a healthy way of eating based on the traditional foods and cooking methods of Greece, which is one of the many countries that surrounds the Mediterranean sea. It is primarily a plant-based diet that has small amounts of dairy and meat. The Mediterranean diet has been associated with many health benefits, such as reducing the risk of heart disease, reducing inflammation, and helping aid weight loss. Read on to learn more about the Mediterranean diet.
What is the Mediterranean diet?
The Mediterranean diet is inspired by the healthy eating habits of the Greek diet before the 1960s. It includes:
An abundance of fruits and vegetables
Lots of whole grains, nuts, seeds, and legumes
High consumption of olive oil
Moderate consumption of fish and shellfish, poultry, eggs, and dairy products
Small, occasional amounts of lean red meat and sweets
Moderate intake of wine, particularly red wine with meals
The Seven Countries study found the Mediterranean diet to be beneficial
The American scientist Ancel Keys ran a study in 1958 called the Seven Countries study. It was one of the first studies to investigate the links between coronary heart disease and lifestyle factors, in particular the intake of saturated fatty acids. The results from this study found that the countries that had a high intake of saturated fats also had higher numbers of people with coronary heart disease.
The study identified the Mediterranean diet as an ideal diet. Countries that adopted this style of eating had lower numbers of people with coronary heart disease and high cholesterol.
The Seven Countries Study was conducted across Finland, Greece, the United States, Italy, the former Yugoslavia, the Netherlands, and Japan.
What are the health benefits of the Mediterranean diet?
The Mediterranean diet is made up of foods and beverages that contain high levels of 'good' monounsaturated fatty acids mostly from olive oil; vitamins B1, B12, E, and C; large amounts of fiber; and antioxidants such as selenium, glutathione, resveratrol and polyphenols. These all contribute in different ways to give the Mediterranean diet its health benefits.
The benefits of a Mediterranean diet include:
Reduced risk of cardiovascular heart disease including stroke and heart attack
Aids weight loss and reduces the risk of obesity
Lower blood pressure
Reduced risk of diabetes
Lower cholesterol
Reduced inflammation
Reduced risk of metabolic syndrome - a group of five conditions that can lead to heart disease, diabetes, stroke, and other health problems
Reduced risk of atherosclerosis - the buildup of fats, cholesterol, and other substances in and on your artery walls
May lower the risk of certain cancers, particularly breast cancer and cancer in the upper aerodigestive tract (airways of the head and neck, including the mouth, throat, larynx, and sinuses)
May reduce the risk of dementia, including Alzheimer's disease, and cognitive impairment
May help manage asthma symptoms
May improve kidney function in people with chronic kidney disease
To achieve the full benefits of the Mediterranean diet it should be combined with a healthy lifestyle that includes daily physical activity. It is also recommended to stop smoking, avoid overeating, and reduce your stress as these can counteract the benefits of the diet.
How to get started on the Mediterranean diet
If you are interested in trying the Mediterranean diet use these tips below to get started:
Create meals using vegetables, legumes, and whole grains as your main ingredients
Include fish and seafood at least twice a week
Cook with olive oil instead of butter. Use it as a dressing on salads and vegetables
Snack on fruits, vegetables, seeds, and nuts for a healthy alternative to processed snack foods
Make sure to include physical activity into your daily routine for maximum benefit
Foods and beverages to eat and avoid on the Mediterranean diet
The Mediterranean diet is primarily plant-based, using natural ingredients. Below are some suggestions of what to include and avoid when eating a Mediterranean diet.
Foods to eat

Foods to avoid

Fruit: Grapes, oranges, tomatoes, apples, bananas, pears, strawberries, melons, kiwi fruit, dates, fig
Vegetables: Aubergine (eggplant), bell peppers, cucumbers, spinach, kale, broccoli, carrots, cauliflower, brussels sprouts, onion, zucchini, and collards
Tubers: Potatoes, yams, sweet potatoes, and turnips
Nuts and seeds: Peanuts, almonds, cashews, hazelnuts, sunflower seeds, pine nuts, sesame seeds, and pumpkin seeds
Legumes: Beans, peas, lentils, chickpeas, and pulses
Whole grains: Bread (especially sourdough bread), cereal, wholemeal pasta, bulgur wheat, barley, brown rice, couscous, and oats
Fish and seafood: (fish low to moderate amounts) - Salmon, tuna, mackerel, herring, shrimp, sardines, clams, oysters, and mussels
White meat: (low to moderate amounts) - Chicken, and turkey
Dairy: Unprocessed cheese - brie, ricotta, parmesan, feta; plain or Greek yogurt
Eggs (no more than four a week)
Healthy fats: Extra virgin olive oil, olives, avocado oil, and avocados
Red meat (eat rarely - a few times a month): beef, lamb, pork, mutton, horse meat, hare, veal, venison, and goat meat
Herbs and spices: mint, parsley, basil, oregano, sage, rosemary, and garlic

Processed and sugary foods such as donuts, cookies, ice cream, pastries, candies, and ready-made meals
Processed meat such as deli meat, sausages, and hot dogs
Foods high in saturated fats and trans fat such as deep-fried foods, margarine, and pizza
Food high in salt (sodium)
Refined oils such as soybean oil, and canola oil
Refined grains such as white bread, white pasta, and any food containing white flour

Beverages to drink

Beverages to avoid

Water
Red wine in moderation about one glass a day
Tea and coffee - unsweetened

Sugar-sweetened beverages
Fruit juice
Soda