How to care for minor wounds at home
Reviewed by Medicine.com on March 5, 2021
Written by Cara Le Mouton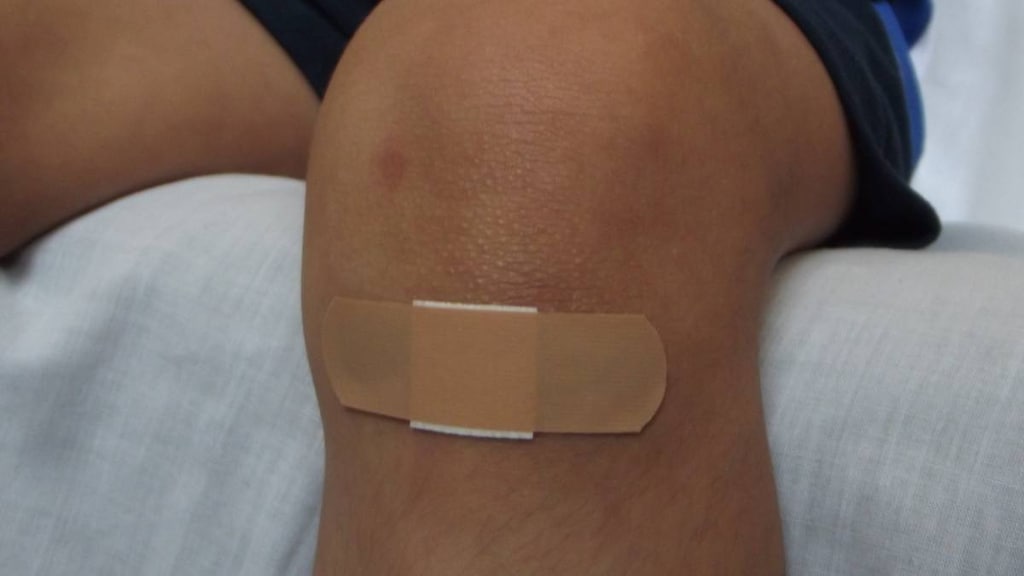 Minor open wounds such as cuts, grazes and scratches are commonplace injuries in everyday life. They can be caused by falls and other accidents.
Minor wounds can usually be treated at home with items from your first aid kit. Serious injuries and injuries that do not stop bleeding require immediate medical attention, however.
Different types of minor wounds
Before treating a minor wound at home
Wash and dry your hands so that they are clean before you begin. Use soap and warm water, if possible, or hand sanitizer. Hand hygiene is important to prevent infection.
Gather your first aid supplies.
Find a suitable spot with good light so that you can see and treat the wound.
Check to see how serious the injury is. Minor wounds can usually be treated at home, but more serious wounds may require medical attention.
How to treat minor cuts, scratches and grazes at home
Stop any bleeding. Apply direct pressure for several minutes to stop any bleeding. Use a clean and dry bandage, towel, handkerchief or something else absorbent. Wounds on your arm or hands can be raised above your head to help stop bleeding. If the bleeding injury is on a lower limb then lie on your back and raise the limb above the level of your heart.
Wash out the wound with drinking-quality tap water or a sterile solution. Carefully wipe away any dirt or debris and gently pat dry with a clean towel or gauze swab. Avoid using antiseptic like iodine or hydrogen peroxide. Antiseptics can damage the wound and slow healing. If a wound is dirty, however, an antibiotic ointment might need to be used. You can also wash around the area where the wound is with warm, soapy water to make sure the surrounding area is clean.
Leave any loose flaps of skin that are clean in place to form a natural barrier.
Cover the wound with a sterile adhesive dressing such as a plaster if required. For a larger area wound, or an area that is more sensitive to adhesive, use a non-stick dressing and secure with paper tape.
Keep the wound dry. Use a waterproof dressing when showering.
Replace dressings that are dirty or wet.
Remove dressings after a few days when the wound has started to heal.
How to treat minor puncture wounds at home
Leave the puncture object in place. If the injury is a serious puncture wound - impaled on a larger object, or located on the neck or other vulnerable spot - then leave the item in place. Clean around the wound and seek medical attention urgently.
If the wound is on the face seek medical help straight to prevent any scarring.
Follow the steps above, to treat minor puncture wounds. Remove the item that has caused the puncture and clean thoroughly after any bleeding has stopped.
Check the wound for signs of infection. Infections are common in puncture wounds. You may get a minor skin infection, and if the wound is not treated early or properly it may lead to a more serious bone or joint infection.
A tetanus injection may be required if it has been more than 10 years since your last tetanus injection, or at least 5 years and the wound is dirty, contaminated or deep or has been caused by a bite from an animal or person.
Does a wound need to be covered?
Some small cuts or scrapes may not need to have a dressing and can be left to 'air out'. This works best if the wound is unlikely to rub against clothing or become dirty. Once a wound has started to heal then it can be left uncovered if there is no risk of it being knocked.
Covering a minor wound though has many benefits. Wounds heal well in a moist environment and having the injury covered keeps the wound moist and any germs and dirt out. Choose the right plaster to fully cover the cut or scrape. A wound dressing reduces the chance of infection, minimizes scarring and protects scabs from being knocked.
How to manage pain and swelling from minor wounds
Take over-the-counter pain medication if needed such as acetaminophen (Tylenol) or ibuprofen (Motrin, Advil). Avoid aspirin as that may slow down the healing process
Apply an ice pack to help reduce swelling or bruising
If the wound is on your upper or lower limbs keep, elevate or raise them above the level of your heart for a short time
Apply a compression bandage, but take care not to make it too tight
Take it easy and rest up
Bottom line
Minor wounds can usually be managed at home with basic first aid supplies
Minor wounds usually start to heal within a few days
Wounds can become infected and you may require antibiotics or other treatments to help them heal
Avoid touching your wound so it does not get infected.
Consult your healthcare professional if your wound shows any signs of infection, isn't healing or you have any other concerns about it