First aid kits - the essentials
Reviewed by Medicine.com on November 15, 2020
Written by Cara Le Mouton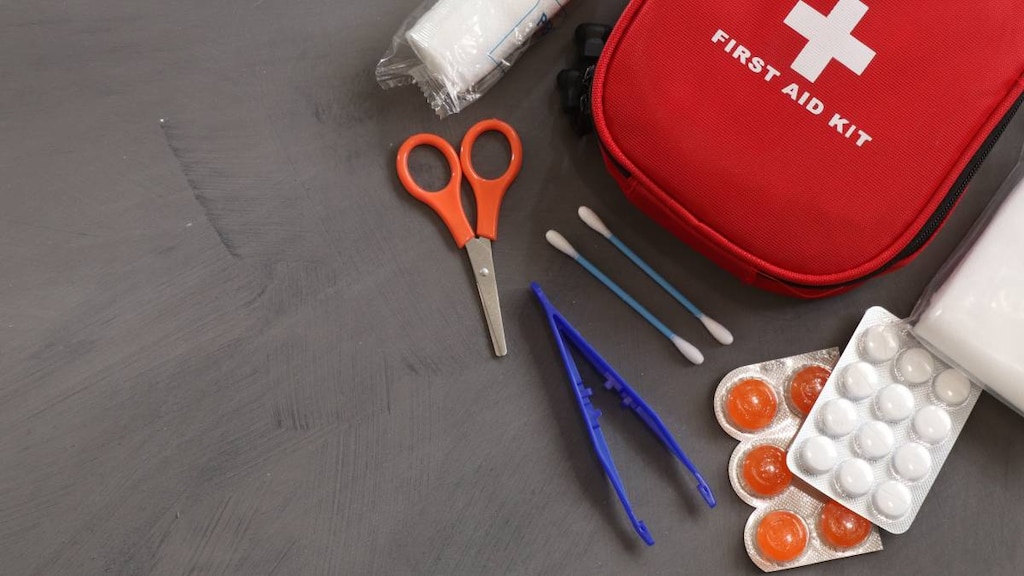 First aid kits are an important tool to have in your home, car or when traveling far from home. We all have small accidents resulting in bumps, bruises or minor injuries from time to time. Having a well stocked first aid kit can help you manage a minor injury yourself.
First aid kits can be used to provide basic care, but remember to call emergency services straight away if there is a serious injury. Before a healthcare provider or emergency services can attend to a person with a more serious injury, you may find some of the items in a first aid kit are useful to help the injured or sick person. Basic first aid kits should also have equipment that can be used to treat minor injuries like cuts, scratches or grazes, minor burns, stings and sprains.
Storing your first aid kit
First aid kits should be stored in a container or bag and protected from dust, moisture and contamination. It should be clearly labelled and easily accessible.
What essentials do I need for a basic first aid kit for the home and car?
You can purchase a ready-made basic first aid kit from a reputable source that is suitable for your home or car, or you can put one together yourself. Your first aid kit should have equipment that can address minor injuries and include the following items listed in the table below.
First aid kit essentials
| | |
| --- | --- |
| Adhesive plasters, preferably waterproof, in assorted sizes and shapes | For small cuts, scratches and grazes |
| Butterfly plasters | To hold two sides of a wound together |
| Non-adhesive dressings | For covering wounds and minor burns |
| Small, medium and large sterile gauze dressings | Used to stop bleeding or cover a large wound |
| Triangular bandages | Can be used as a sling, towel or tourniquet |
| Elastic bandages | Wrap around an injury to reduce swelling, keep cold or hot packs in place or support a sprain or strain |
| Disposable sterile gloves | Offer an added barrier against infection or when there may be contact with a bodily fluid. Can also be used as a cold pack. |
| Hand sanitizer | To clean hands |
| Tweezers | Preferably fine pointed to pull out splinters, thorns, stings |
| Scissors | Essential for cutting dressings to correct size or for cutting clothing and bandages. |
| Alcohol-free cleansing wipes | To clean dirt and any debris in a wound before dressing it |
| Adhesive medical tape | To keep a gauze dressing in place |
| Thermometer (preferably digital) | To check for a fever |
| Antiseptic cream | To apply directly to a wound and help stop infection |
| Painkillers | Such as acetaminophen (or infant acetaminophen for children), aspirin (not to be given to children under 16), or ibuprofen |
| Antihistamine cream or tablets | For any stings or allergic rashes |
| Sterile eye pad | To dress any eye injuries |
| Emergency or survival blanket | To keep someone warm |
| A disposable bag | For contaminated articles and can double as an ice pack. |
| First aid manual or quick reference card | To establish the correct treatment for an injury |
What essentials do I need for a travel first aid kit?
If traveling overseas or just going on a hike or walk in a remote area, then it is a good idea to take a personal first aid kit. This can be a smaller kit and include smaller amounts of equipment from the basic kit list above, with these additional items:
Blister plasters
Aloe vera gel for minor burns and sunburn
Epipen if needed
Medication to manage diarrhea
Oral rehydration salts for hydration
Mild laxatives for treating constipation
Antacids for treating indigestion
Any medications that you currently take - make sure you have an adequate supply that covers your time away.
Motion sickness and nausea medication
Insect repellant
Personal hygiene products
Sunscreen
Don't forget to maintain and replace your first aid supplies
Regularly check the items in your first aid kit. Make sure medications, wipes and creams have not expired and replace any plasters and adhesive dressings that have not been used for long periods of time. Replace any used or damaged items as soon as you can so you don't forget. Always sterilize the scissors and tweezers after use and store in a small container or bag within the kit. If traveling by air make sure to pack any sharp objects in your check-in luggage to avoid airline security confiscating them if packed in your carry-on bag.