Kombucha: The benefits and risks of this fermented tea
Reviewed by Medicine.com on July 14, 2021
Written by Cara Le Mouton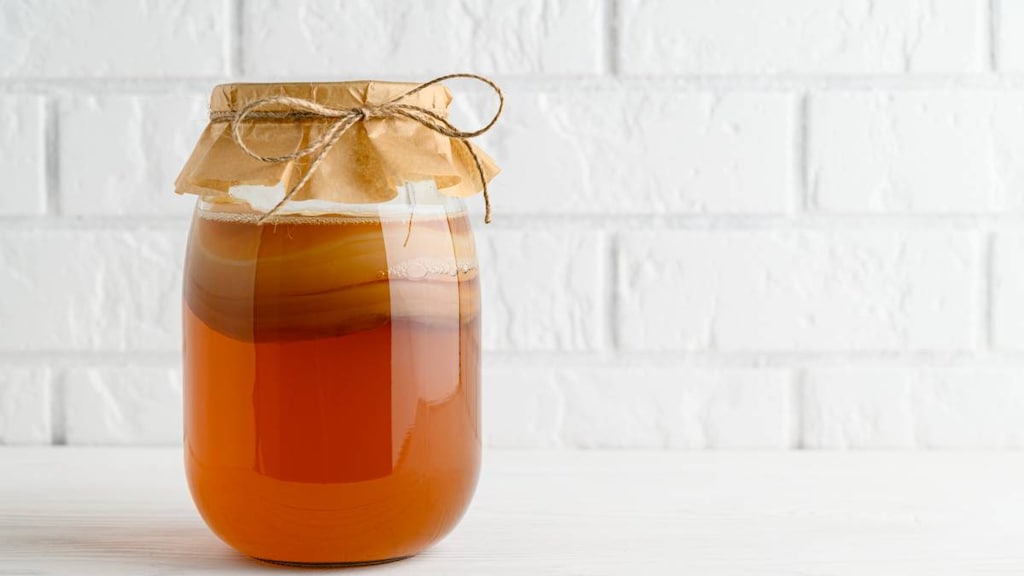 Kombucha is a fizzy, fermented tea that has gained popularity in recent years due to its supposed health benefits. It's also sometimes called Manchurian tea or Kargasok tea. Kombucha's health benefits are thought to arise from the natural benefits of tea and the fermentation process used to make it.
A number of health benefit claims have been made about Kombucha, including that it may help improve gut health, strengthen the immune system, aid weight loss, prevent certain cancers, reduce inflammation, help control blood sugar levels, and more.
There's currently a lack of evidence to back up the claims made about kombucha, because they've not been investigated yet in clinical trials. Instead, the claims are largely based on anecdotal evidence and reports that haven't been verified.
Kombucha can be brewed at home or purchased from supermarkets and other retail outlets.
How is kombucha made?
Kombucha is made by fermenting sweetened black or green tea with a symbiotic culture of bacteria and yeasts (SCOBY).
Kombucha is produced by adding the SCOBY and a portion of a previous batch of kombucha to a cooled, sweetened black or green tea. This brew is then left to ferment in a glass container for at least seven days at room temperature, preferably between 64°F (18°C) and 78°F (26°C).
As kombucha ferments, the acidity levels change in the tea. Acidity is measured using the pH scale which ranges from 0 - 14 - the lower a pH level the more acidic it is. During kombucha's fermentation process the pH level drops to between 2.5 and 3.5. This is because the yeast in the SCOBY turns the sugars in kombucha into alcohol and then the bacteria transforms the alcohol into acetic acid. This limits the alcohol content of the kombucha and gives it its fizz and slightly sour taste.
After the fermentation process is complete the SCOBY is removed and stored, and the remaining mixture is poured into an air-tight glass container and stored in the fridge. More sugar or fruit can be added at this point to balance out the sour taste.
What is SCOBY?
The SCOBY, or Symbiotic Culture Of Bacteria and Yeast, is a disc-shaped culture that contains a variety of good bacteria and yeasts. It is also called a 'mushroom' due to its appearance, or 'mother' because it reproduces during the fermentation process. It forms a floating film or mat called a pellicle on the brew during the fermentation process. A new layer is created on the SCOBY during each successful fermentation process. Each new layer contains varying levels of the different bacteria and yeasts.
The main varieties of bacteria found in kombucha are Gluconacetobacter, Lactobacillus, Bifidobacterium, and Acetobacter, while the most abundant yeast varieties include strains such as Saccharomyces boulardii, Zygosaccharomyces, and Brettanomyces. The bacteria and yeasts create probiotics, antioxidants, vitamins, and minerals that are essential for a healthy body.
The health benefits of kombucha
The kombucha fermentation process produces a beverage containing probiotics, antioxidants, vitamins, and minerals. It is these components of kombucha that are thought to provide the health benefits it may have.
Antioxidants are substances that slow down or prevent the production of free radicals, a molecule or atom that can cause certain types of cell damage and lead to inflammation.
Probiotics are live microorganisms that help restore and maintain a healthy balance of microorganisms in your gastrointestinal (GI) system. They may also help your immune system and help prevent gut inflammation. The GI system is home to many microorganisms, which are collectively known as our microbiota or microbiome.
Vitamins and minerals. Kombucha contains small amounts of vitamins and minerals. Vitamins and minerals are essential nutrients that are needed to support many bodily functions, such as cell-reproduction and development, and for the processing of energy in cells.
Kombucha may help reduce heart disease
Kombucha's potential heart health benefits stem from the catechins it contains, a polyphenolic compound found in green tea. Polyphenols have antioxidant, anti-inflammatory, and lipid-lowering properties that help reduce the risk of heart disease. Polyphenol activity levels increase during fermentation.
Studies in animals have shown that catechins can lower 'bad' LDL (low-density lipoprotein) cholesterol and increase 'good' HDL (high-density lipoprotein) cholesterol. They can also lower inflammation and prevent the oxidation of LDL cholesterol. These are all factors that help to reduce the risks associated with heart disease.
Kombucha may help reduce the risk of heart disease, but more studies need to be done to confirm this health claim.
Kombucha may help manage type 2 diabetes by lowering blood sugar levels
A study conducted in diabetic rats found that kombucha made with black tea slowed the breakdown of starches in the digestive system and reduced blood sugar levels, which become elevated in people with diabetes. The research also showed that kombucha had a positive impact on the health of the pancreas and improved liver and kidney functions, which can also be adversely affected by diabetes.
Kombucha brewed with green tea has the additional benefit that green tea possesses. Studies in people show that green tea has a favourable effect on decreasing blood sugar levels.
Kombucha could be a potential add-on therapy for the treatment and prevention of diabetes, however, more research still needs to be done to confirm the benefits of kombucha for people with diabetes.
Kombucha may help prevent cancer
There is growing evidence that kombucha may help in the prevention of certain types of cancer. The black or green tea used in kombucha contains catechins, a type of phenolic compound that has antioxidant properties. The phenolic compounds, especially epigallocatechin-3-gallate (EGCG) found in black and green tea are thought to have potential anticancer properties. Green tea has higher concentration levels of ECGC than black tea and is thought to play a more important role in the prevention of cancer.
In animal studies, catechins have shown to hinder tumor cell growth, remove toxins from the body and possibly protect against damage from ultraviolet (UV) B radiation. It is thought this may help reduce the risk of prostate, stomach, colon, breast and lung cancers.
Two small case-control studies conducted in southeast China and Japan also found that ten or more cups of green tea per day produced a small reduction in the risk of prostate cancer in men.
Kombucha brewed with green tea may possess some of the same benefits of green tea on its own, but this needs to be investigated further to confirm.
Kombucha may reduce gut inflammation
There is some evidence that the probiotics produced in fermented beverages like kombucha have a positive effect on conditions that impact gut health such as irritable bowel syndrome (IBS). Probiotics work to balance the good and bad bacteria within your gut, reduce the symptoms of gas and bloating in IBS, and reduce the risk of inflammation and diarrhea.
Like the other health benefit claims, this one also required further research.
Kombucha may help strengthen the immune system
The health of your immune system is linked with the health of your GI system. Probiotics play a big part in maintaining a healthy gut and this in turn may strengthen the immune system's response to inflammation and infection. The bacteria, B and C vitamins, and minerals such as iron, zinc and copper that are produced in the fermentation process play a role in keeping the immune system healthy too.
Continued studies into kombucha's health claim in boosting the immune system are needed.
Are there risks associated with drinking kombucha?
Kombucha isn't suitable for everyone and may cause side effects in some people, especially if too much is consumed.
If brewed incorrectly, kombucha can make people sick. Care must be taken when brewing kombucha. Kombucha should be brewed in a clean and sanitized environment. Do not use the SCOBY if it shows any mold on it. Incorrectly brewed kombucha can cause side effects such as vomiting, stomach cramps, nausea, head or neck pain, and dizziness. These side effects can also occur if you consume too much kombucha.
Kombucha may contain alcohol and is not recommended for children or pregnant and breastfeeding women. It is also not recommended for people with liver, kidney or pulmonary disease. The longer kombucha is fermented, the higher the alcohol content.
Prolonged fermentation can cause the acetic acid bacteria to further break down the alcohol. This can create a build-up of carbon dioxide that can cause the container the kombucha is stored in to explode. It can also turn the mixture acidic like vinegar and make it undrinkable.
Bottom line
Kombucha is a popular beverage that is thought to have potential health benefits. The possible health benefits come from the tea used as the base for the kombucha and the fermentation process that makes this drink.
There is evidence that kombucha contains antioxidants, probiotics, vitamins, and minerals and these can have a positive effect on your health. However, more research is needed to confirm the health benefits of kombucha.
If you are making kombucha at home it's important to make sure it's prepared correctly to avoid any harmful side effects such as nausea, vomiting, and stomach cramps.
Kombucha is not recommended for everyone. If you are pregnant, breastfeeding, take medication, or have an existing medical condition, consult your healthcare professional to make sure kombucha is safe for you.