Psoriasis types and locations - what you need to know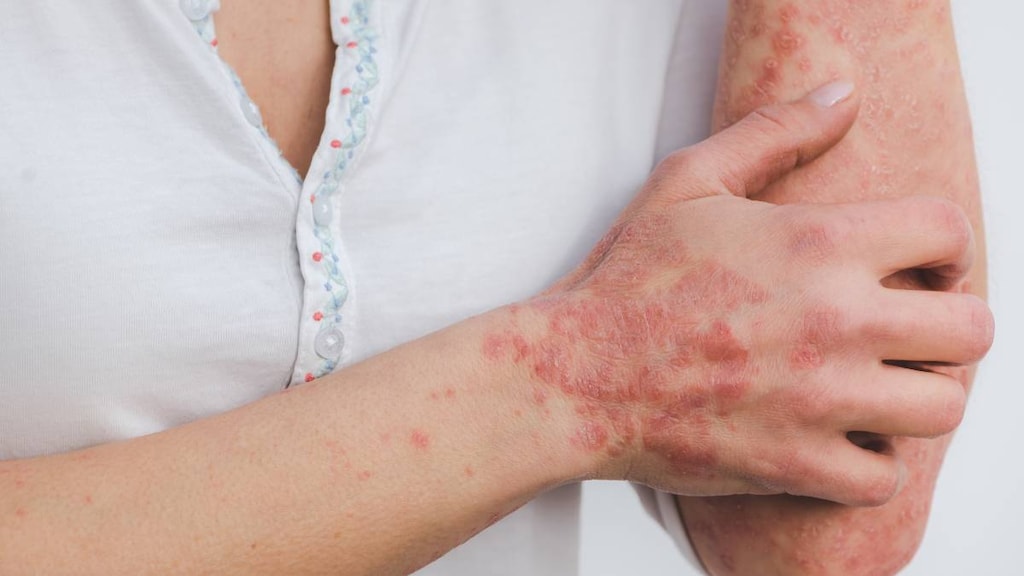 Psoriasis is a chronic inflammatory skin disease. The exact cause of psoriasis is unclear, but immune-system dysfunction plays a role in the inflammatory response that leads to psoriasis. Psoriasis is described as being an immune-mediated or autoimmune disease.
Psoriasis isn't a 'one size fits all' condition. There are different types of psoriasis, which can affect different parts of the body. Psoriasis symptoms also vary from person-to-person and so do treatment options.
The 5 types of psoriasis
The five types of psoriasis are:
Plaque psoriasis
Inverse psoriasis
Guttate psoriasis
Pustular psoriasis
Erythrodermic psoriasis
In addition to these five key types, about 30 percent of people with psoriasis will also develop psoriatic arthritis, a form of chronic arthritis. Psoriatic arthritis is not strictly a type of arthritis, but it is an associated condition.
It is possible to have more than one type of psoriasis at the same time.
1. Plaque psoriasis
Plaque psoriasis affects about 80-90 percent of people with psoriasis and is the most common type. People with plaque psoriasis often have nail psoriasis too.
Symptoms
Dry, thick and raised red patches of inflamed skin called plaques appear, which are covered in a silvery, white scale
On darker skin tones the plaques can look darker and thicker and be more of a purple, grey or dark brown color
Plaques can be itchy and painful
Plaques are most commonly found on the scalp, the outsides of the elbows and knees, and the lower back, but breasts, genitals, hands, legs and nails can also be affected
2. Inverse psoriasis
Inverse psoriasis is also known as intertriginous psoriasis. Inverse psoriasis affects about 25 percent of people with psoriasis and more commonly affects people who are overweight or have deep folds in their skin. People with inverse psoriasis often have other types of psoriasis too.
Symptoms
Smooth and shiny lesions appear in the folds of the skin, including under the arms and breasts and around the genital and buttock area. Other skin folds can also be affected
The lesions appear inflamed but are not usually scaly
On lighter colored skin the lesions appear a deep-red color. On darker colored skin the lesions can appear purple or brown
Lesions can be severely itchy and painful. Sweating or rubbing of the area can make these symptoms worse
3. Guttate psoriasis
About 8 percent of people with psoriasis have guttate psoriasis. Guttate psoriasis can develop at any age, but most commonly begins during childhood or the early-adult years.
Symptoms
Papules - small, round, raised, red and sometimes scaly spots - develop due to inflammation
Papules commonly appear on the arms, legs and torso, but can also develop on the face, ears and scalp
The papules are generally not as thick as plaques
4. Pustular psoriasis
Pustular psoriasis is less common than most of the other types of psoriasis, affecting about 3 percent of people with psoriasis. This type of psoriasis can also start at any age, but is more common in older adults.
Pustular psoriasis is further categorized into three different types:
General pustular psoriasis (GPP) or von Zumbusch psoriasis
Localized pustular psoriasis or palmoplantar pustular psoriasis (PPPP)
Acropustulosis
Symptoms
Pustules - white, pus-filled and painful bumps - develop
Red or discolored skin can surround the pustules
Pus is caused by inflammation and is not contagious
Red/discolored skin typically develops first, followed by pustules and then scaling
GPP affects large areas of the body and can also cause:

Fever
Chills
Severe itching
Heart rate changes
Fatigue
Muscle weakness

PPPP occurs when the pustules appear on the soles of the feet and/or palms of the hand. The base of the thumbs and sides of the heels can also be affected
Acropustulosis occurs when the pustules appear only on the tips of the fingers and/or toes and is very rare
5. Erythrodermic psoriasis
Erythrodermic psoriasis affects about 2 percent of people with psoriasis, making it a rare form of the condition. It can be life threatening and affects a widespread area of the body. Erythrodermic psoriasis requires immediate medical attention.
Symptoms
Layers of skin shed off in large sheets.
Severely red or discolored skin, which looks burnt
Severe itching and pain
Fluid balance disruption, which may lead to fluid retention (edema) in the feet or ankles
Increased heart rate
Body temperature increases and decreases, which may lead to shivering episodes
Dehydration
Nail changes
Psoriasis affects different parts of the body
Psoriasis can affect all areas of your skin. Different types of psoriasis are known to affect different areas of the body, as has been mentioned above. In addition to being found on the outsides of the elbows and knees, and the torso, psoriasis is also found elsewhere. The following is a list of other locations where psoriasis appears on the body:
Scalp - up to 56 percent of people with psoriasis have scalp psoriasis. The forehead, hairline, back of the neck and around the ears can also be affected. Many people with scalp psoriasis will also develop psoriatic arthritis.

Scalp psoriasis can look like dandruff or appear as thicker plaques. It usually has a powdery appearance with a silver sheen.
Genitals - about 65 percent of people with psoriasis will have genital psoriasis at some time. People with genital psoriasis will usually have inverse or plaque psoriasis on other parts of their body as well.

Genital psoriasis can affect the vulva, penis or scrotum, as well as the surrounding areas.
Face - about half of the people with psoriasis will develop patches on their face. The eyebrows, upper forehead and the space between the upper lip and nose can be affected. Patches may also develop on the ears, mouth and in very rare cases the area around the eyes.
Nails, hands and feet - palmoplantar psoriasis affects the palms of the hands and soles of the feet and affects 12 -16 percent of people with psoriasis. Almost half of people affected will also have nail changes.

Nail changes, like scalp psoriasis, are also seen in many of the people who go onto develop psoriatic arthritis. Nail changes can affect the nail matrix, bed or plate.

Common signs of nail psoriasis include pitted, deformed or thicken nails or nails that appear a discolored yellow-brown color. Onycholysis, which is when nails separate from the nail bed - is also a sign of nail psoriasis.
Skin folds - inverse psoriasis commonly appears in skin folds including under the arms and breasts.
A range of treatment options are available for psoriasis
Psoriasis can appear anywhere on the body and its what it looks like can vary depending on the type that you have. A number of different options are available to help treat psoriasis, including treatments used for specific kinds of psoriasis, such as scalp psoriasis.
Some medications are applied directly to the lesions on the skin, while others are taken by mouth or injected. In some cases phototherapy or light therapy may also provide relief from psoriasis symptoms.
In addition to prescription medications, various self-care options, home-remedies and over-the-counter products may also help to manage psoriasis symptoms.