Top 5 strategies to help treat scalp psoriasis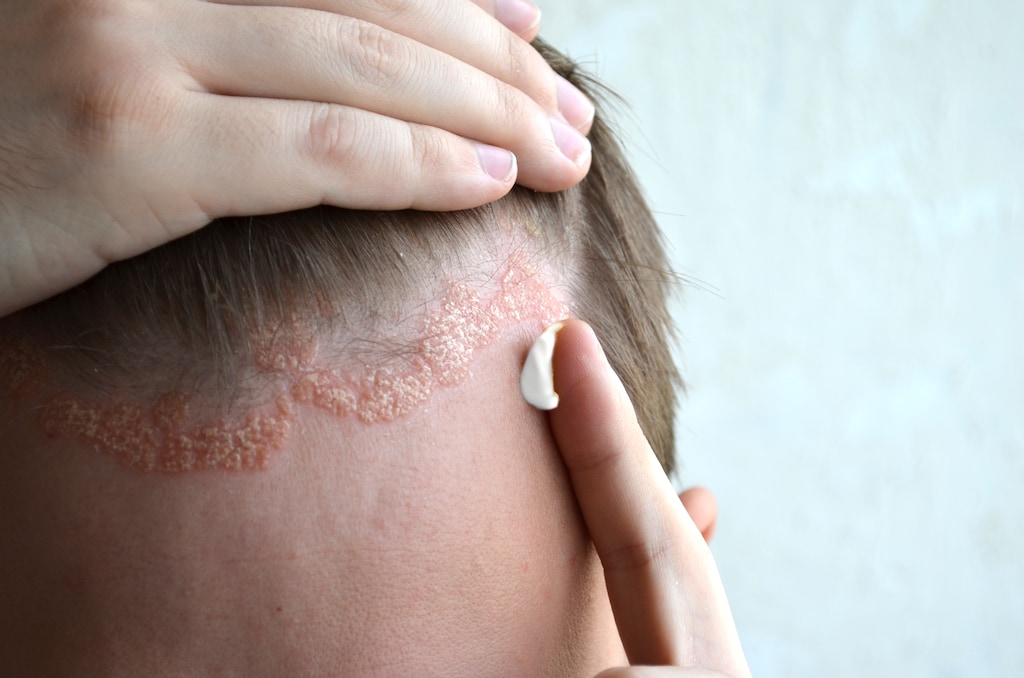 Psoriasis is a chronic inflammatory skin condition that causes the rapid turnover of skin cells. The rapid growth of skin cells causes scaly, red rashes or thickened areas of skin called plaques to appear. Plaques can appear anywhere on the body, but are commonly found on the elbows, knees and scalp.
Scalp psoriasis can occur on its own or in addition to plaques on other parts of the body.
Scalp psoriasis:
Is commonly found on the back of the head
Can cover the whole scalp or appear as multiple discrete plaques
Can extend beyond the hairline and onto the face, neck and behind the ears
Is often silvery white and can look like severe dandruff
Can be extremely itchy
Is often a long-lasting condition with symptoms that fluctuate over time
Can cause temporary mild hair loss that often affects a plaque
Is not contagious
Finding a treatment that works to clear up your scalp psoriasis can be a process or trial and error, but there are a number of options available to try. Find out more about the top 5 strategies for treating scalp psoriasis below:
Combining and rotating treatment options is often used to minimize the possibility of side effects and for the times when a treatment has become less effective.
1. Self-care, home remedies and over-the-counter scalp psoriasis treatments
Taking care of your scalp can help to minimize flare ups and improve the appearance of psoriasis on the scalp.

Remember to be gentle with your scalp and:
Avoid long, hot showers - Hot showers and baths can dry out your skin and make your condition worse. Shorter showers and baths using warm water are easier on the skin.
Avoid scratching - Scratching can make your scalp psoriasis worse. If you scratch a lot it can cause bleeding and eventually hair loss. Keep fingernails short and smooth to avoid harsh scratching.
Brush and comb gently - Scratching the scalp can make psoriasis flare up. Brush and comb your hair gently to help avoid making the condition worse. Gentle brushing and combing can also help loosen and remove scales
Shampoo and condition gently - avoid rubbing, scrubbing and scratching your scalp when you shampoo. Conditioners can help the scalp feel less dry and make it easier to gently comb hair. Conditioner can also help cover the scent of medicated shampoos.
Avoid pulling hair back tightly - Pulling the hair back too tightly can irritate the scalp and cause psoriasis to flare up.
Avoid relaxing, perming or coloring the hair - Take care when having hair treatments because they can cause scalp psoriasis to flare up. During a flare-up it is best to avoid blowouts, relaxing, perming or coloring your hair.
Home remedies may also help to relieve the itching and scaling associated with scalp psoriasis. Remedies you can try at home include:
Apple cider vinegar - Found in the grocery store, apple cider vinegar can be applied several times a week to help stop itching. It should not be used on open wounds, bleeding or cracked skin. If it causes a burning sensation try diluting it in a one-to-one ratio with water and rinse off thoroughly once the solution has dried on the scalp.
Epsom salts or deep sea salts - Soaking your scalp in a warm bath with salts for 15 minutes can help to relieve itching and make scales easier to remove. Take care not to have the water too hot because this can dry out the skin. After bathing gently remove scales with your fingers, tweezers or a washcloth.
Oils and thick moisturizers - Oils (such as coconut and olive) and thick moisturizers can be used to soften scales so they can be washed away. Massage into the scalp at night then wear a shower cap to bed before shampooing the oil out in the morning. This process can be repeated for two or three nights in a row if necessary.
Mild scalp psoriasis may be possible to manage with over-the-counter (OTC) products. Look for OTC products that contain:
Salicylic acid - softens the scales and plaques and makes it easier for scales to be removed.
Tar (coal or wood) - reduces inflammation, itching and scaling by slowing the growth of skin cells.
The National Psoriasis Foundation also has a Seal of Recognition program that recognizes products intended to be non-irritating and suitable for people with psoriasis.
2. Medicated shampoo
Medicated shampoos, such as Clobex shampoo which contains the corticosteroid clobetasol propionate, may be prescribed to help treat moderate to severe scalp psoriasis. This shampoo is typically used for four weeks to get scalp psoriasis under control. The shampoo helps to reduce redness, inflammation, itching and scaling. Just like when using regular shampoos, medicated shampoos should be applied gently.
3. Topical (applied to the skin) products
Topical steroids
Topical steroids obtained on prescription are one of the most frequently used treatments for psoriasis. This is because the corticosteroids these products contain help to control the inflammation, redness and itching associated with psoriasis plaques.
Topical steroid products come in a variety of strengths with some being much stronger than others. Ointments, creams and gels can be difficult to apply to the scalp because of the hair, but these products are also available in other forms such as Clobex spray (clobetasol propionate) and Taclonex Topical Suspension. Taclonex Topical Suspension is a combination product that contains the corticosteroid betamethasone dipropionate and calcipotriene, a vitamin D analog.
Calcipotriene
Calcipotriene is a man-made or synthetic form of vitamin D that is applied to the scalp before bedtime. It helps to slow the growth of skin cells, flatten plaques and remove scales. To help it penetrate the scalp, a shower cap can also be worn to bed.
Calcipotriene is available on its own in products such as Sorilux and also in combination with a steroid, such as in Taclonex.
Calcitriol
Calcitriol is a naturally occuring form of vitamin D3 and is available in an ointment called Vectical to help treat plaque psoriasis. It also helps slow the growth of skin cells.
Tazarotene
Tazarotene is a retinoid derived from vitamin A, which is used to slow the growth of skin cells. Cream and gel forms of tazarotene are available for the treatment of plaque psoriasis under the brand name Tazorac.
Anthralin
Anthralin is an older drug, which is available as Dritho-Creme HP. It contains a man-made version of a substance found in goa powder sourced from the araroba tree. Once again, this cream works by slowing the growth of skin cells. Plastic gloves are recommended to apply this cream to prevent discoloration of your fingertips.
4. Other scalp psoriasis therapies
In addition to home remedies and products that you apply to your skin, there are other options available via your dermatologist to help treat scalp psoriasis including:
Phototherapy or light therapy - this type of therapy involves treating the psoriasis plaques with ultraviolet light. Usually UVB light is used and it works by penetrating the skin and slowing the excessive production of skin cells. UVB phototherapy, the excimer laser treatment and home UVB phototherapy are options. Typically this type of treatment involves two to three short sessions each week for several weeks.

UVB light is also naturally present in sunlight. Care must be taken though because too much sun exposure can also damage the skin and lead to the development of skin cancers.
Oral medications - prescription medications are also available to help treat psoriasis, such as:

Methotrexate
Otezla (apremilast)
Neoral (cyclosporin)
Soriatane (acitretin)

Biological medications - newer biological therapeutics that work on the immune system are another option for the treatment of this autoimmune disorder. They are typically administered via injection or infusion. Biological medications available to treat psoriasis include:
5. Steroid injections
Severe cases of scalp psoriasis that fail to respond to other treatments may benefit from intralesional steroid injections - injecting a corticosteroid such as triamcinolone into the plaque - to help reduce inflammation. Steroid injections may cause pain and are used with caution because they can cause atrophy of the local area and other side effects can occur if they are absorbed by the body.