Eczema or psoriasis – how to tell the difference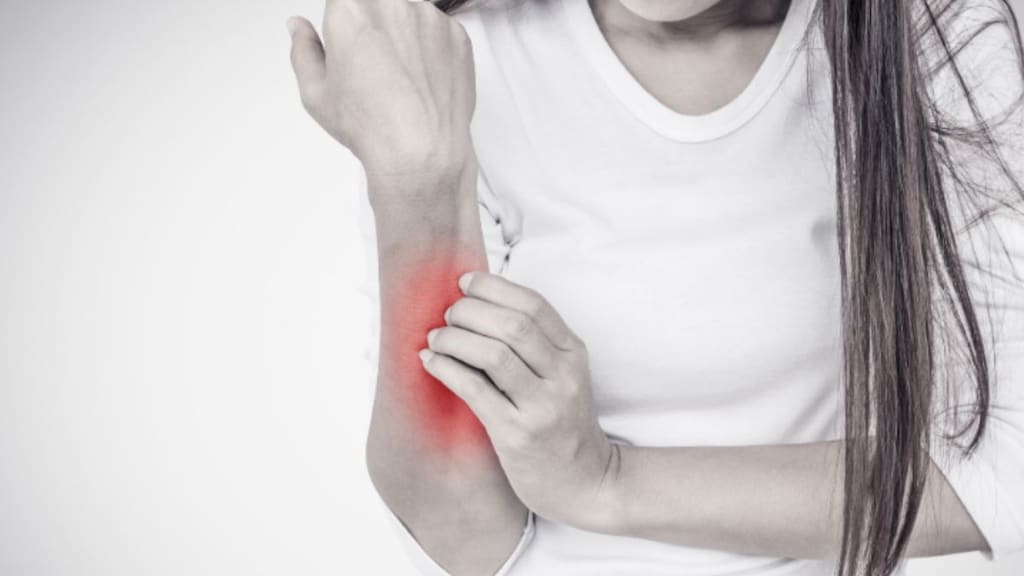 If you develop a dry, scaly, itchy and red rash you may be left wondering whether you have eczema or psoriasis. It can sometimes be difficult to tell the difference between these two skin conditions.
Eczema is the more common of the two skin conditions, affecting more than 31 million Americans. About 8 million Americans are affected by psoriasis.
Here we take a look at eczema and psoriasis, so that you can learn how to tell them apart.
What are eczema and psoriasis?
Eczema is the name given to a group of skin conditions that cause inflamed and irritated skin. There are seven types of eczema, but the most common type of is atopic dermatitis or atopic eczema. Atopic refers to a tendency to develop allergic diseases such as asthma and hayfever, while dermatitis is a general term used to describe skin irritation or inflammation. The terms eczema and atopic dermatitis are often used interchangeably.

Psoriasis is a chronic immune-mediated skin condition that causes skin cell growth to speed up and the cells to pile up on the surface of the skin. There are five types of psoriasis, the most common of which is plaque psoriasis.
Types of eczema
Types of psoriasis

Atopic dermatitis
Contact dermatitis
Neurodermatitis
Dyshidrotic eczema
Nummular eczema (Discoid eczema)
Seborrheic dermatitis
Stasis dermatitis

Plaque psoriasis
Inverse psoriasis
Guttate psoriasis
Pustular psoriasis
Erythrodermic psoriasis
What are the causes and triggers of eczema and psoriasis?
Eczema and psoriasis are not contagious, meaning that you can't catch them from another person. Genes, the environment and the immune system play a role in the development of eczema and psoriasis, and they are triggered by a number of different things.
A combination of genes and environmental triggers are thought to cause eczema, although the exact cause is unknown. Eczema tends to run in families and you are more likely to develop it if allergic conditions such as hay fever, food allergies and asthma run in your family. An overactive immune system that causes inflammation contributes to the development of eczema symptoms.
Eczema triggers include:
Dry skin
Irritants, such as cleaning products, shampoos, soaps, lotions, creams, metals (nickel for example), certain fabrics and more.
Stress
Weather - cold, damp environments put people more at risk than warm, humid ones.
The exact cause of psoriasis is also unknown, but researchers do know that genes and the immune system play a role in the development of this disease too.
Psoriasis, like eczema, tends to run in families. Regulatory T cells, an important part of the immune system, seem to drive the development of psoriasis. Their suppressive function is impaired in people with psoriasis, allowing skin cell growth to accelerate to problematic levels.
Psoriasis triggers include:
Stress
Injuries, such as cuts, bites and even sunburn - known as the Koebner response
Illness, such as throat infections or other immune disorders
Weather - cold weather associated with less sunlight and humidity can trigger psoriasis
Drinking too much alcohol
Smoking
Certain medications, including nonsteroidal anti-inflammatory drugs (NSAIDs) such as ibuprofen, lithium, some antimalarial drugs and ACE inhibitors
Certain foods and allergies
What are the symptoms of eczema and psoriasis?
What eczema and psoriasis look like and the exact symptoms people experience can vary from person to person. Symptoms may be fairly constant or flare-up from time-to-time. Some of the common symptoms of these conditions are listed below.
Symptoms of eczema (atopic dermatitis)
Symptoms of psoriasis

Itchy skin - usually mild to moderate, but can be severe or intense leading to scratching that causes broken, bleeding skin
Red rashes
Dry skin
Sensitive skin
Inflamed skin
Discolored skin
Rough, leathery, thickened or scaly skin
Oozing or crusty patches
Bumpy-looking skin like goosebumps
Swollen skin
More prone to skin infections
Difficulty sleeping because of other symptoms

Dry, thick and raised red patches of skin (plaques) with silvery, white scale (plaque psoriasis) - most common symptom. On darker skin tones the plaques can look darker and thicker and be more of a purple, grey or dark brown color
Itchy patches that tend to cause a milder itch than eczema
Small, scaly salmon- to pink-colored bumps (Guttate psoriasis)
Smooth, red patches of raw-looking skin with little or no scale. Sore and painful skin (Inverse psoriasis)
Red, swollen skin with pus-filled bumps. Skin that is very sore and painful. Brown dots and sometimes scale can appear as the bumps dry (Pustular psoriasis)
Burnt-looking skin, fever, chills, muscle weakness, rapid pulse and severe itch (erythrodermic psoriasis)
Pitted nails, nails with white/yellow/brown discoloration, crumbling and rough nails, nails that are lifting, buildup under nails (nail psoriasis)
Which parts of the body are affected by eczema and psoriasis?
Eczema commonly occurs on the backs of the knees and insides of the elbows.
Eczema can also occur at a number of other sites around the body. In babies it is common on the scalp and face, while in older children it is more common in the creases of the elbows and knees. Eczema can also appear on the neck, wrists, ankles, and other sites where there are creases in the skin. In adults, there are fewer rashes but the hands and eyes may be affected.
Psoriasis commonly affects the scalp, the outside of the elbows and knees, and the lower back.
Psoriasis can also occur elsewhere on the body including on the face, hands, feet, nails, skin folds and genitals. Inverse psoriasis develops where skin touches skin.
Can you have both eczema and psoriasis?
Yes, it's not common, but it is possible to have both eczema and psoriasis.
What to do if you think you have eczema or psoriasis
If you think you might have eczema or psoriasis visit a healthcare professional, such as your dermatologist, so that they can have a look at your skin and discuss your symptoms and medical history.
Different treatments exist for eczema and psoriasis and it's important to get an accurate diagnosis and appropriate treatment to help get your symptoms under control.