8 Foods and drinks to avoid with heartburn
Reviewed by Medicine.com on May 24, 2022
Written by Cara Le Mouton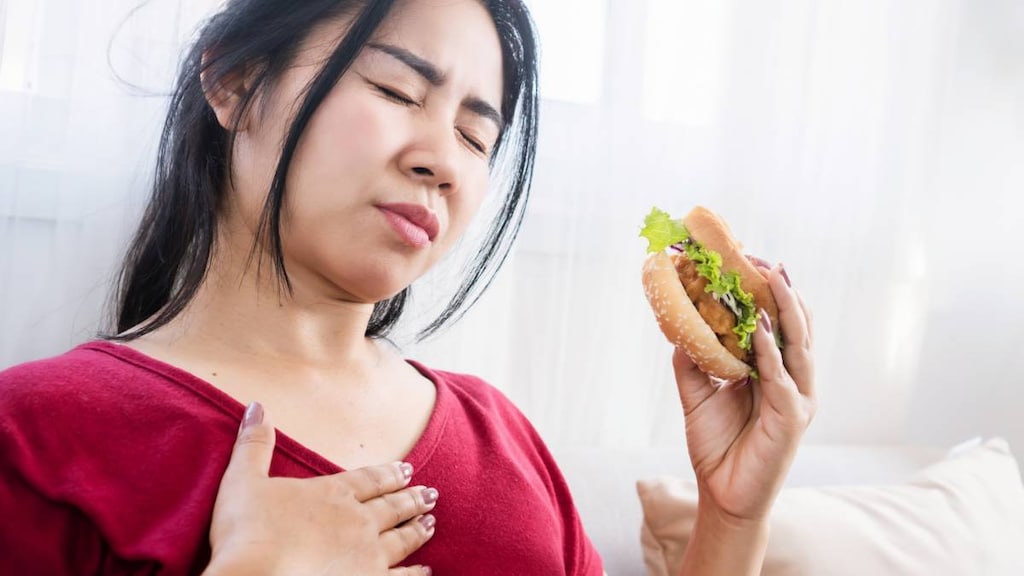 Heartburn is a digestive system problem that causes a burning sensation in your chest. It is also known as acid indigestion or pyrosis.
The burning sensation caused by heartburn is often felt behind your breastbone and may be accompanied by other symptoms such as:
A sour taste in the back of your throat
A lump in your throat or feeling that you have food stuck in your throat
Cough
Hiccups
Hoarse voice
Heartburn is commonly caused by acid reflux. Acid reflux occurs when the ring of muscle at the top of your stomach, called your lower esophageal sphincter (LES), relaxes too much, relaxes at the wrong time, becomes weak or doesn't close fully.
When this happens the contents of your stomach, including gastric acid, digestive enzymes, bile salts and undigested food, can travel back up into the tube that carries food and drink from your throat to your stomach called your esophagus.
Your esophagus doesn't have the same protection from acid as your stomach, so when your stomach contents push up into your esophagus it gets irritated and you get the burning sensation you feel with heartburn. Other times heartburn is caused by things that you consume that irritate your esophagus on the way down.
Pregnancy and certain medications can bring on heartburn, but it's also often brought on by consuming certain foods and drinks. Lifestyle changes are often the first step in preventing heartburn.
One change you can make to prevent heartburn is to limit or avoid things in your diet that bring on your symptoms. Everyone is affected differently, so try keeping a journal of what you eat and drink to identify what may be causing your symptoms.
To help you get started we've put together a list of 8 common diet culprits that may be causing your heartburn.
8 Foods and drinks that cause heartburn
1. High fat and fried foods
High fat foods, especially fried and greasy foods, may contribute to heartburn by reducing the tone or tension in your LES, which makes it easier for the contents of your stomach to rise back up into your esophagus.

High fat foods can also slow how quickly your stomach empties (gastric emptying), which can lead to an increase in pressure on your LES and heartburn.

Examples of high-fat, fried or greasy foods include:
Pizza
French fries
Fried chicken
Deep fried onion rings
Fatty cuts of meat or fish
Donuts
Hotdogs
Full-fat dairy - ice cream, whole milk, sour cream and cream
2. Spicy food
Spicy foods are often associated with heartburn, especially in people that do not consume them frequently. Spicy foods are thought to cause heartburn by directly irritating the lining of the esophagus. Chili, for example, is a key ingredient in many spicy foods and it contains capsaicin, which can irritate the lining of your esophagus and can worsen symptoms of heartburn. Capsaicin also delays gastric emptying.
Examples of spicy food include:
Hot salsa
Hot spicy stews and curries
Sichuan Hot-Pot
Jerk chicken
Food that contains chilies or chili paste
Jalapeno poppers
3. Alcohol
Drinking alcohol can also cause heartburn. Alcohol causes your LES to relax, increases the amount of stomach acid you produce, slows down how quickly your esophagus moves food from your throat to your stomach and delays gastric emptying.
Several studies have shown that people who drink alcohol at least three to five times a week are at increased risk of gastrointestinal reflux disease (GERD). Heartburn is one of the symptoms of GERD.

Examples of alcoholic drinks include
Beer
Wine
Cocktails
Spirits, for example, vodka, gin, or rum
4. Soda and other carbonated beverages
Soda and other carbonated beverages can trigger heartburn.
Like with alcohol, these drinks can cause your LES to relax slightly. They can also cause your stomach to swell or distend and lead to transient LES relaxations (TLESRs), which is when the ring of muscle around the top of your stomach relaxes spontaneously without you swallowing. This helps to let gas escape, but it can also cause heartburn.
Carbonated drinks and soda may also cause a short-term drop in the pH of your esophagus, meaning that the area becomes more acidic.
Examples of these beverages include:
Soda
Carbonated water, (also known as fizzy water or sparkling water.)
Energy drinks
Sparkling wine
Tonic water
5. Acidic fruits, vegetables and juices
Acidic fruits and vegetables, and their juices can also aggravate heartburn symptoms. It's thought that their acidity can irritate the lining of your esophagus, making it more sensitive.
Examples of acids foods and juices to avoid include:
Citrus fruits, including orange and grapefruits, and their juice
Tomatoes, including tomato juice, and tomato-based foods such as tomato preserves and ketchup
Pineapple
Garlic
Onions
6. Caffeine
Drinking caffeinated drinks such as coffee and tea may also cause heartburn. Too much caffeine can relax your LES.
Examples of drinks containing caffeine include:
Coffee
Tea
Some sports or energy drinks
If you think caffeinated drinks are causing your heartburn, check out our tips for breaking your coffee habit.
7. Chocolate
Chocolate contains cocoa and caffeine and it might also be causing your heartburn symptoms. Like many other things, chocolate can cause your LES to relax, increasing the amount of time your esophagus is exposed to the acidic contents of your stomach.
8. Peppermint
Peppermint is sometimes used to soothe an upset stomach, but in a small number of people it can also make heartburn worse by relaxing your LES.
Examples of foods and drinks that contain peppermint include:
Sweets or candy containing peppermint
Peppermint syrup
Peppermint chocolate
Peppermint tea
Bottom line
Heartburn often occurs after a meal or at night. While there isn't a lot of research to confirm which dietary changes are likely to help, many people find that limiting or avoiding certain foods and drinks helps to prevent their heartburn symptoms.
Other tips you can try to help manage your heartburn symptoms include:
Avoiding large meals. Eat small amounts of food and chew your food slowly
Eating at least three hours before bed
Taking a medication that helps heartburn
Avoiding tight clothing around your stomach
Trying a healthy diet, such as the Mediterranean diet
The occasional bout of heartburn is not generally cause for concern, but heartburn can sometimes be a symptom of other health conditions like GERD. Talk to your doctor if you experience heartburn more than twice a week or your symptoms don't go away with lifestyle changes and over-the-counter (OTC) medications. This may be a sign you have a more serious medication condition.
If your chest pain is severe or is accompanied by other symptoms such as arm pain, shortness of breath or cold sweats, seek medical attention straight away. These may be signs of a heart attack.