Can my dog benefit from CBD?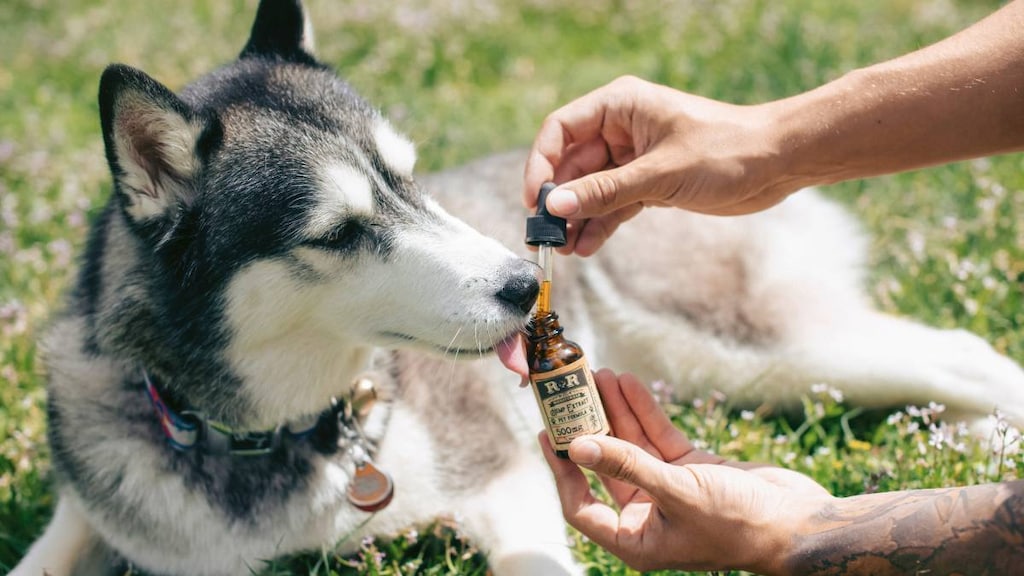 CBD (cannabidiol) is a chemical found in the Cannabis sativa plant. As the recreational and medicinal use of CBD has grown among people, dog owners have also become more interested in using CBD to help their pets.
Cannabis is also known as marijuana. It contains more than 100 naturally occurring substances called cannabinoids. CBD and THC (delta-9-tetrahydrocannabinol) are two of the most well-known cannabinoids. CBD does not give its users the 'high' that they get from THC, but it is still of interest as a treatment for a wide range of conditions.
Only a limited number of small studies have been conducted to investigate the safety and effectiveness of CBD in dogs, so more research is needed to determine whether CBD is beneficial for dogs and is effective and safe long-term.
The US Food and Drug Administration (FDA) has also not approved any cannabis products for use in animals, which means they have not looked at how safe and effective CBD is in dogs yet.
What we know about the safety and effectiveness of CBD in dogs
Below is a list of conditions that dogs suffer from that it is hoped may benefit from treatment with CBD.
Osteoarthritis pain
Other types of pain
Epilepsy
Stress and anxiety
Inflammation
Nausea
Cancer symptoms
Digestion problems
Skin conditions
And here's a snapshot of what researchers have found so far.
Osteoarthritis-associated pain
Treatment with CBD oil appears to decrease pain, improving mobility and quality of life in dogs with chronic maladaptive pain associated with osteoarthritis, according to the results of a 90-day trial conducted in 37 dogs. A total of 30 of the 32 dogs who completed the study showed improved pain support. Ten of the 23 dogs who were taking gabapentin when they enrolled were able to stop taking it and 11 other dogs were able to reduce their daily dose. Treatment with CBD was associated with an increase in alkaline phosphatase (ALP), a liver enzyme.
A separate study, however, found no difference in outcome between dogs with osteoarthritis of appendicular joints that were treated with CBD and dogs that received placebo. Twenty-three pet dogs were treated with either placebo or CBD for six weeks before swapping treatments. No differences were observed in the way the dogs walked, activity levels, or questionnaire responses. Elevated liver enzymes and vomiting occurred in 14 and 2 dogs, respectively, when they were treated with CBD.
Epilepsy
No difference in outcome was seen when dogs with idiopathic epilepsy were treated with CBD oil compared with dogs who received placebo.
The dogs were treated with CBD-infused oil 1.1mg/lb (2.5mg/kg) or placebo twice a day for 12 weeks in addition to their existing antiepileptic treatments. A significant reduction in seizure frequency was observed in CBD-treated dogs, but similar findings were also observed in the dogs receiving placebo. Plasma concentrations of CBD appeared to be linked to the reduction in seizure frequency observed, which led researchers to conclude that a higher dose of CBD should be investigated to see if that would reduce seizure activity by ≥ 50 percent.
Serum ALP activity increased significantly in dogs treated with CBD, but no adverse behavioral effects were reported. Two dogs were also withdrawn from the CBD group after they developed ataxia, a degenerative disease of the nervous system. This was a small study in which only nine dogs were included in the analysis from the CBD group and only seven from the placebo group.
Anxiety
The results of a small study investigating the potential of CBD treats to reduce a noise-induced fear response in 16 dogs suggest that they are not an effective anxiolytic in dogs. Treatment with CBD 25mg (1.4mg/kg/body weight) for 7 days was not effective at reducing anxiety in dogs exposed to the sounds of fireworks. Treatment with CBD was compared to treatment with trazodone 100 or 200 mg/kg/body weight, which did lower plasma cortical levels and increased time spent with a relaxed tail. CBD treatment was well-tolerated.
More on the safety of CBD in dogs
Results to date indicate that CBD is generally safe and well tolerated in dogs. Although, diarrhea and increased serum ALP (a liver enzyme) were identified as potential safety issues in a small study conducted in 30 healthy beagles, and other studies have also identified elevated liver enzymes as a potential problem.

The study conducted in beagles tested CBD oil capsules, a CBD-infused oil and a CBD-infused cream given at doses of 10 or 20 mg/kg/day for 6 weeks. Based on the results of the study the researchers concluded that further studies were needed to investigate the long-term effects of CBD on the liver and its link to diarrhea.
Although CBD is thought to be generally safe, veterinarians have seen more cases of toxicosis - or poisoning - in dogs since medicinal and recreational use of cannabis products has grown in people.

It's important to keep such products out of reach of your pets. If you think your dog may have accidentally consumed too much of a cannabis-containing product consult your veterinarian, animal poison control center or the emergency room at your local animal hospital straight away.

Signs that you dog may have ingested cannabis include:
Lethargy
Depression
Excessive drooling
Vomiting
Agitation
Tremors
Convulsions
Is CBD legal for use in dogs?
Since the introduction of the 2018 Farm Bill in the US it has been legal under federal law for people to buy products containing CBD from hemp plants with less than 0.3 percent THC. Many states also have their own laws covering CBD. Some of these laws may be more restrictive, so it's important to check what's legal in your state.
While CBD may be legal to buy under federal law, there are some rules surrounding the marketing of products that contain CBD.
To be able to make a therapeutic claim about the product it must first be approved by the FDA. The FDA has approved a CBD-containing oral solution called Epidiolex for use in people with certain types of seizures, but it has not approved any cannabis products for use in animals.
The Animal Medicinal Drug Use Clarification Act of 1994 (AMDUCA) does, however, allow veterinarians to prescribe drugs approved for human use to animals under certain conditions.
CBDs designation as an active ingredient in a drug product also means that it cannot be added to foods, including pet foods, under the Federal Food, Drug and Cosmetic (FD&C) Act.
Some hemp-derived ingredients have been approved for use in foods intended for people including hemp seed, hemp seed protein powder and hemp seed oil. This is possible because these seeds do not naturally contain CBD or THC. No hemp-derived ingredients have been approved for use in animal feed or pet food at this time, but in March 2021 an application was made in the US for use of hemp as a chicken feed.
Things to consider before giving your dog CBD
Further research is needed to determine the benefits of CBD for dogs
Always consult your veterinarian before starting your dog on CBD
It's especially important to talk to your veterinarian before starting your dog on CBD if they take other medications
Care should be taken when giving CBD to dogs. Liquid forms of CBD are preferable. CBD edibles designed for human consumption should not be given to pets because it's difficult to determine the dose of CBD they contain and they may include ingredients that are toxic to dogs, such as chocolate
Always follow the manufacturer's dosing guidelines that come with the CBD product you have purchased. You many need to weigh your dog to work out the dose that is needed