What's the difference between chemotherapy and radiation?
Reviewed by Sally Chao, MD on December 22, 2021
Written by Denise Mann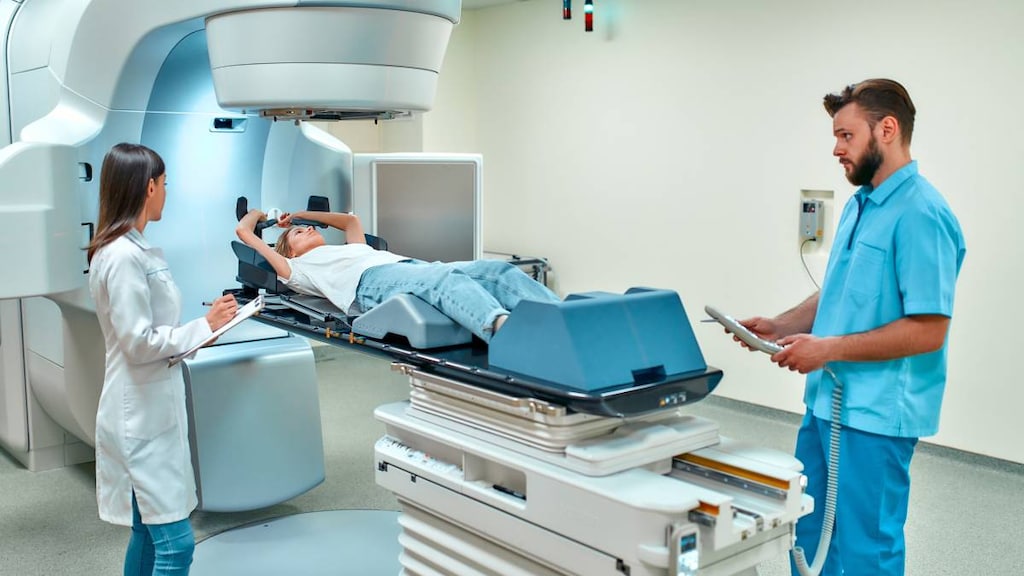 Chemotherapy and radiation are two common types of cancer treatments.
Chemotherapy treatments are powerful drugs that work throughout your entire body's tissues and cells to kill fast-growing cells, including cancer cells. Alternatively, sometimes chemotherapy drugs are sent directly into an artery or cavity where the cancer is.
Radiation therapy uses high-energy rays to target a tumor directly, or it sometimes can be injected or taken as a liquid to target cancer cells throughout your body.
Both are used to treat a wide range of cancers, either alone or in combination with other therapies.
What is chemotherapy?
Chemotherapy kills all fast-growing cells in the body. It is considered a systemic cancer therapy because it treats the entire body, not just the tumor. The goal is that this treatment will kill any errant cancer cells in the body. It is a very common cancer treatment, used in almost all types of cancer.
Chemotherapy can help cure cancer, stop its spread or relieve symptoms associated with it. Sometimes chemotherapy is used before surgery to shrink tumors so that they can be more easily removed surgically, and other times it may be given after treatment ends to make sure there are no remaining cancer cells in your body.
Chemotherapy can be taken by mouth as a pill or capsule of liquid, given intravenously through a vein, administered via injection or applied topically. It is given in cycles with rest periods in between.
There are more than 100 types of chemotherapy drugs that fall into several broad classes. They are used alone or in combination depending on the type of cancer being treated.
Exactly how long chemotherapy lasts is based on the type and stage of the cancer. It is often given in a doctor's office or hospital setting.
Chemotherapy side effects include:
Hair loss
Nausea
Vomiting
Mouth sores
Fatigue
Bruising
Infection
Low red blood cell counts (anemia)
Appetite changes
Constipation
Diarrhea
Numbness, tingling, pain and other nerve problems
Skin and nail changes
Weight fluctuations
Mood changes
Difficulty concentrating
Decreased libido
Fertility issues
What is radiation?
Radiation uses high doses of X-rays, gamma rays, electron beams or protons to kill cancer cells and shrink tumors. The radiation damages the genetic material (DNA) in cancer cells, causing them to gradually die off.
There are two main types of radiation therapy used to treat cancer: external beam and internal radiation.
External beam radiation therapy is delivered via a machine that aims the energy directly at the cancer. Unlike chemotherapy, external beam radiation is considered a local cancer treatment because it treats a specific body part, not the whole body.
Internal radiation therapy, by contrast, is delivered from within the body as an implanted solid (brachytherapy) or liquid. Brachytherapy is also considered a local therapy, as it targets a specific part of the body. It's often used for cancers of the head, neck, breast, cervix, prostate and eye. However, internal radiation with a liquid is systemic in reach. The energy travels through the bloodstream to kill cancer cells throughout the body. The liquids can be swallowed, given intravenously or administered via an injection. Radioactive iodine is often used to treat thyroid cancer, while other types of systemic radiation therapy treat cancers in the prostate and pancreatic neuroendocrine tumors. During this type of therapy, the body emits radiation in urine, sweat and saliva for some time. Drugs known as radiosensitizers may be given to make cancer cells more sensitive to radiation.
Decisions on radiation therapy are based on many factors, including the cancer type, where it's located and how big it is, in addition to your overall health and medical history. Like chemotherapy, radiation can be used to cure cancer, prevent it from returning, slow its growth or help alleviate symptoms. It can be given before or after surgery as well.
Side effects of radiation vary, largely based on where and how it is given. Some are site-specific, resulting from damage to healthy cells and tissues near the treated area.
For example, radiation to the scalp may result in hair loss, and if it is aimed at the head or neck, dry mouth, swallowing problems and mouth sores may develop. Radiation to the chest may cause swallowing problems and breathlessness.
Other more general radiation side effects include:
Skin changes, such as dryness, itching and blistering
Fatigue
Low blood counts, which can increase your risk of infection
Radiation may increase your risk of developing another cancer in the future, but this is rare, and patients will be followed and monitored accordingly.