What you should know about CBD and pain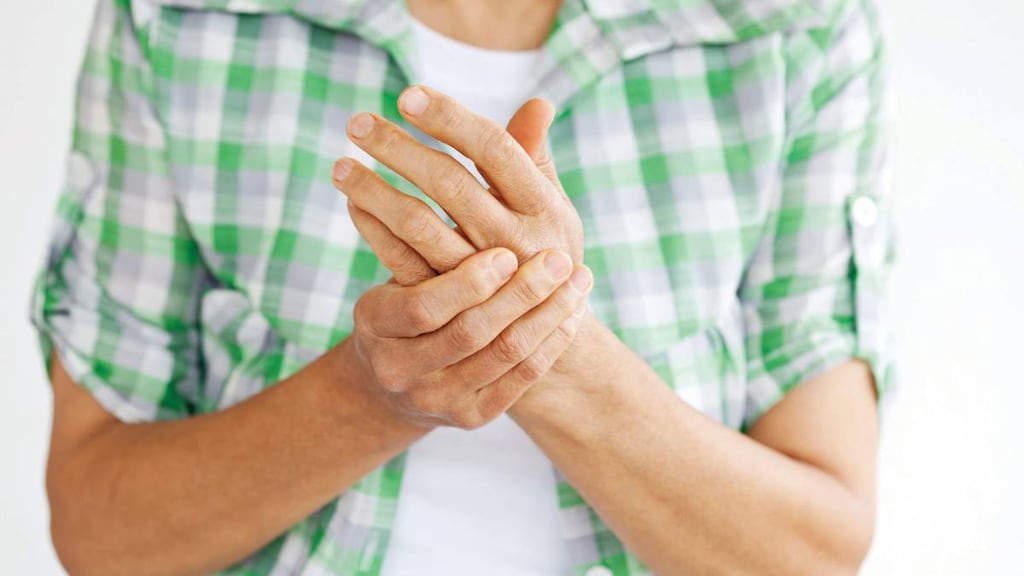 The pain-relieving properties of CBD (cannabidiol) are of interest to many people including those suffering from one of the many conditions that cause pain.
The popularity of products containing CBD continues to grow, especially since the introduction of the 2018 Farm Bill in the United States (US). The 2018 Farm Bill made it legal under US federal law to buy CBD products produced from cannabis plants containing less than 0.3 percent THC (delta-9-tetrahydrocannabinol). Cannabis produced from such plants is called hemp.
CBD is a chemical found in the Cannabis sativa plant and is one of two well-known cannabinoids - the other is THC. THC is responsible for the psychoactive or mind-altering effects of cannabis, or marijuana as it is also known, which gives people a 'high'. CDB doesn't make people feel 'high', but researchers are investigating how it might work to help people in pain.
At present, the only US Food and Drug Administration (FDA) approved prescription product containing CBD is an oral solution called Epidiolex. Epidiolex is not used to treat pain, but is used to treat seizures associated with Lennox-Gastaut syndrome, Dravet syndrome or tuberous sclerosis complex in patients one year of age or older.
What the research says about CBD for pain
Research into CBDs role in pain is ongoing because anecdotal reports suggest that it may be a useful analgesic (pain killer) and it is well-tolerated with an acceptable safety profile. Much of the research to date has involved preparations containing both THC and CBD, which makes it difficult to determine exactly what role CBD plays in pain management.
Preclinical animal studies investigating CBD for pain
Neuropathic pain is a type of pain caused by direct nerve damage or by conditions that affect the somatosensory nervous system. This type of pain can be difficult to treat. People with neuropathic pain can experience hyperalgesia - an excessive or enhanced sensation of pain. They can also experience allodynia, which is pain caused by something that does not usually cause pain.

In a number of preclinical studies, CBD has shown potential in the treatment of neuropathic pain, especially with helping to alleviate allodynia. These studies involved animal models of sciatic nerve injury and other similar conditions. Anti-inflammatory effects were also observed in one animal model of spinal cord injury.

In addition to these models, CBD has also shown potential in preclinical models of neuropathic pain caused by chemotherapy drugs used to treat cancer. Studies also suggest it has potential in neuropathic pain associated with type 1 diabetes.
Inflammatory pain is caused by noxious stimuli, something that causes physical harm or damage, during an inflammatory or immune response. Inflammation does play a protective role, but in some conditions it can cause ongoing pain in the nerve cells that are activated by sensory input.

CBD has been shown to have some analgesic and anti-inflammatory properties in inflammatory-induced chronic pain models in animals, although results have been mixed.

In an experimental autoimmune encephalitis (EAE) model of multiple sclerosis in mice, CBD botanical drug substance did not provide the neurological benefits that the Sativex-like combination + THC botanical drug substances did, but it did delay disease onset. It also appeared to make the EAE less severe, reducing axonal damage, inflammation and T-cell recruitment in the spinal cords of the animals.
Arthritis-related pain. Osteoarthritis is a type of degenerative joint disease where pain results from worn out joints. Increasing age and obesity play a role in the development of osteoarthritis. This type of pain is commonly managed with nonsteroidal anti-inflammatory drugs (NDSIDs).

In preclinical models of osteoarthritis, applying CBD to the skin has been shown to have pain-relieving properties and also helped reduce local inflammation in rats.
Clinical trial data for CBD in pain is lacking
The research looking at CBD alone as a treatment for pain is extremely limited. More studies have investigated the use of CBD in combination with other chemical substances such as THC, but there is still a lack of evidence and more clinical trials need to be conducted.
CBD may have potential in the treatment of peripheral neuropathy
Peripheral neuropathy can occur when nerves get damaged. It can cause pain and other symptoms. There are a number of causes of peripheral neuropathy including injury, infection or disease, but one common cause is diabetes.
One small study has looked at using CBD oil to treat peripheral neuropathy. It found that applying CBD oil to the skin significantly reduced intense pain and sharp pain, as well as itchy and cold sensations in people with peripheral neuropathy. The study was conducted in 29 people who were treated with a topical CBD oil 250mg/3fl oz or placebo for 4 weeks.
A spray containing both CBD and THC was also found to improve sleep quality and pain in patients with peripheral neuropathic pain associated with allodynia. In this small trial 303 patients were randomized to receive the CBD/THC spray or placebo.
CBD-containing products may help to reduce opioid use
CBD-rich soft gels derived from hemp reduced opioid use and improved quality of life in patients in chronic pain who had been taking opioids for at least one year, according to the results of one small study. While the soft gels contained CBD 15.7mg, they also contained other substances including THC 0.5mg, cannabidivarin (CBDV) 0.3mg, cannabidiolic acid (CBDA) 0.9mg, cannabichrome (CBC) 0.8mg and more than 1 percent botanical terpene blend.

The study initially enrolled 131 patients, 97 of which completed the 8-week course of treatment. A total of 94 of these patients used the CBD soft gels, with most using two a day. Within 8 weeks, 53 percent of the 94 patients had reduced or eliminated opioid use. A total of 94 percent of these patients also reported improvements in their quality of life, with significant improvements in Pittsburgh Sleep Quality Index (PSQI) and Pain Intensity and Interference (PEG) scores being reported.
CBD-containing products in spasticity and multiple sclerosis
Outside of the US Sativex (nabiximols) - an oral spray containing both CBD and THC - has been approved for use in the treatment of spasticity associated with MS. Spasticity commonly causes feelings of tightness in the body, but it can also cause pain. GW Pharmaceuticals is currently running a clinical trials program to gather the necessary data for FDA approval of Sativex in the US.
While Sativex has some benefit in the treatment of spasticity associated with MS, results in other forms of spasticity have not been as positive. Sativex was not found to be beneficial in a trial conducted in children with spasticity associated with cerebral palsy or traumatic brain injury.
A few small studies have also looked at Sativex's ability to treat neuropathic pain in people with MS and results suggest it may help to some degree.
Bottom line
Preclinical study results suggest that CBD alone or in combination with other cannabinoids, such as THC, may have potential in the treatment of pain
Clinical trials investigating the effectiveness of CBD in the treatment of pain are lacking and results have been mixed so far
Further clinical trials are needed to access the efficacy and long-term safety of CBD for the treatment of pain