CBD gummies: What you should know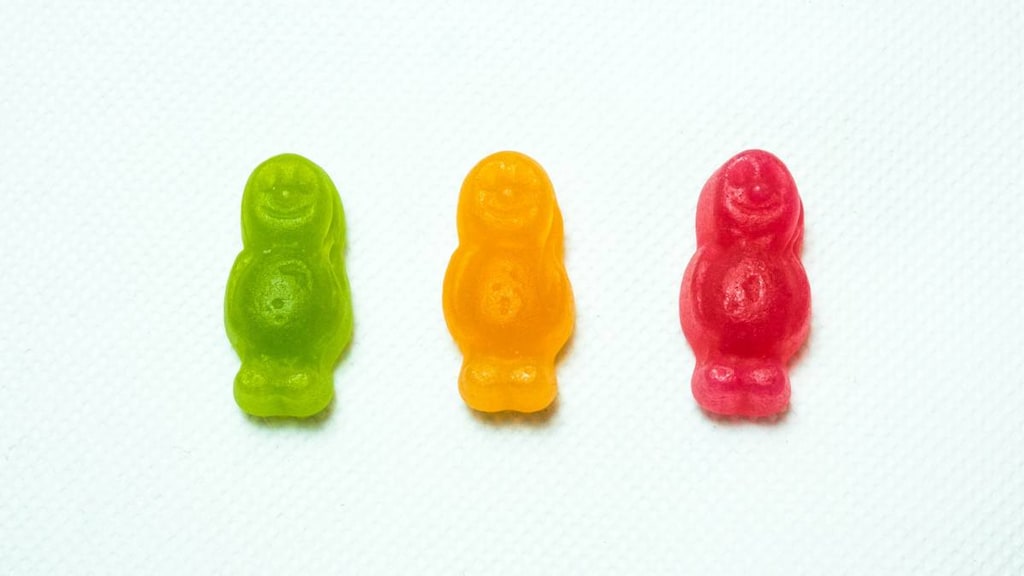 CBD gummies are an edible form of cannabidiol or CBD. Interest in CBD gummies has grown in recent years following the introduction of the 2018 Farm Bill, which has led to easier access and greater availability of CBD gummies.
CBD is a cannabinoid compound found in the Cannabis sativa plant. CBD is just one of more than 100 cannabinoids. Another well-known cannabinoid is THC (delta-9-tetrahydrocannabinol), which is the substance in cannabis that gives people a 'high'.
Cannabis is also known by other names including marijuana (weed, pot, dope, skunk), hashish (hash) and hemp.
What are CBD gummies?
CBD gummies are gummy or jelly treats that have been infused with CBD oil sourced from hemp plants. Hemp is cannabis that is grown for the production of fibre and seeds.
CBD gummies are colorful and come in a range of shapes, including gummy bears and hearts, just like regular gummy candies. They are one of a number of edible CBD products, alongside cookies, cakes and other products. CBD is also available in other forms, such as tinctures, sprays, lotions and creams.
Are CBD gummies legal?
Federal law allows people to legally buy CBD gummies containing CBD sourced from hemp plants that contain less than 0.3 percent THC. Hemp differs from marijuana in that it contains much less THC.
When the 2018 Farm Bill (Agricultural Improvement Act 2018) was introduced it removed hemp from the definition of marijuana, which is a controlled substance in the US. The introduction of the Act means that hemp containing no more than 0.3 percent THC on a dry weight basis can be used as a source of CBD for gummies and other CBD-containing products.
States may also have their own laws covering CBD, which can be more or less restrictive, so it's important to check what the laws are in your state.
What are CBD gummies used for?
CBD is taken for a wide variety of reasons. Research is currently lacking regarding the health benefits of CBD in general, with even less known about the true benefits of CBD gummies. Despite this, CBD is used for:
Pain and inflammation
Anxiety
Depression
Nausea and vomiting, including as a side effect of cancer therapy
Sleep problems
Stress and focus
Muscle and joint support
Health claims or therapeutic claims cannot be made in the US for a product unless it has been approved by the US Food and Drug Administration. No CBD gummies have been approved by the FDA to manage any health conditions.
Gummies are commonly used over other forms of CBD because they are a discreet way of consuming CBD, which is healthier than smoking it and doesn't require special equipment.
Where can I buy CBD gummies?
CBD gummies can be purchased online and from retail stores. There are a large number of different brands to choose from with new products hitting the market all the time. Some current brands of CBD gummies are listed* below.
| | | |
| --- | --- | --- |
| American Shaman | Bluebird Botanicals | CBDfx |
| CBDistillery | CBDMD | Cheef Botanicals |
| Cornbread Hemp | Diamond CBD | FAB CBD |
| Five | Garden of Life | Green Roads |
| Hemp Bombs | Hemp Emu | Hempvana |
| Ignite | Joy Organics | JustCBD Store |
| Keoni | Koi CBD | Kushy CBD |
| MedixCBD | Medterra | Papa & Barkley |
| PlusCBD | Premium Jane | Pure Gummies |
| Social CBD | Veritas Farms | |
* The list above is intended for general informational purposes only. Inclusion in the list does no constitute or imply endorsement or recommendation of the products.
Before buying CBD gummies there are some things to consider
The CBD industry is not well regulated as yet, so it's important to do your research before you buy. It's important to check labels and research who makes the CBD gummies you are looking to buy to ensure the product you are buying is a quality one.
Things to consider before buying CBD gummies:
Hemp source. Hemp grown organically is recommended as the preferred source for gummies. The US Department of Agriculture (USDA) regulates the production of hemp in the US.
CBD extraction method. CBD can be extracted from hemp using different methods, such as solventless extraction, solvent-based extraction and supercritical CO2 (carbon dioxide) extraction.

Supercritical CO2 extraction uses pressurized CO2 to pull CBD out of hemp and this method is becoming the preferred method for CBD extraction. It is more expensive than other methods, but it is efficient and provides a safe concentrate free from additives and other contaminants.
Certificate of Analysis (COA). A COA provided by an accredited third party (outside laboratory) tells customers more about the quality of the product. The COA provides information about the ingredients in the gummies.
Hemp industry organization endorsement. A number of industry organizations have sprung up to help regulate the hemp industry. Such organizations are focused on putting in place standards and best practices to help ensure that quality products are produced. The US Hemp Authority, the US Hemp Roundtable and the National Hemp Association are examples of some of the hemp industry organizations that producers of CBD gummies may choose to belong to.
Product potency. Gummies contain different amounts of CBD, which means that some products will be stronger than others. Gummies typically contain 10mg to 30mg of CBD, but some can contain as much as 100mg of CBD. Factors such as your weight and the results you're after will help determine the best dose for you.
Ingredients. CBD gummies can contain a range of ingredients. Always check the ingredients to make sure they are suitable for you.

Some CBD gummies may contain ingredients that are not vegan friendly or gluten free, for example, while others might contain other active ingredients to treat specific conditions.

Different types of hemp extract can also be used to create CBD gummies and this impacts what's in the final product. CBD can be sourced from the following forms of hemp extract:

Full-spectrum - extract contains a wide range of cannabinoids and terpenes including THC
Broad-spectrum - extract purified to remove THC, but contains other substances from the hemp plant
CBD isolate - extract contains CBD only
Can I make CBD gummies at home?
CBD gummies can also be made at home using a few simple ingredients such as CBD oil, gelatin, fruit juice, a sweetener such as honey and silicon molds. Check out the internet for different recipes.
How do I take CBD gummies?
CBD gummies are easy to take. Just pop them in your mouth, chew and swallow like a regular candy gummy. First-time users are generally advised to start with a low dose and then slowly increase the dose until the desired effect is achieved. Always read and follow the directions on the product label.
CBD is thought to be generally well-tolerated and have a good safety profile, but there is still a lot we don't know. Check with your healthcare provider before using CBD gummies to see if they are suitable for you. This is especially important if you take any medications or supplements or have any health conditions.
How quickly do CBD gummies work and how long do the effects last?
CBD edibles take longer to work than other forms of CBD because the CBD has to make its way through the digestive tract and liver before entering the bloodstream.
How quickly CBD gummies work hasn't been well studied, but in tests of CBD capsules the time taken to reach the maximum concentration of CBD in the serum after a dose was taken was between 1-3 hours.
How long the effects of CBD gummies last has also not been well studied. However, after a single oral dose of CBD in capsule form the half-life - the time for the plasma concentration of CBD to reduce by half - was found to be about 1-2 hours.
Can CBD gummies make you high?
No, CBD does not make you high unless they also contain THC. CBD does not have the psychoactive properties of the cannabinoid THC, which does give people a 'high'.
If you're planning to try CBD gummies…
Remember to do your research to help ensure you are taking a quality product.
Talk to your healthcare provider first to make sure CBD gummies are suitable for you.
Keep CBD gummies in a safe place out of reach of children and pets.