What to do in an asthma attack emergency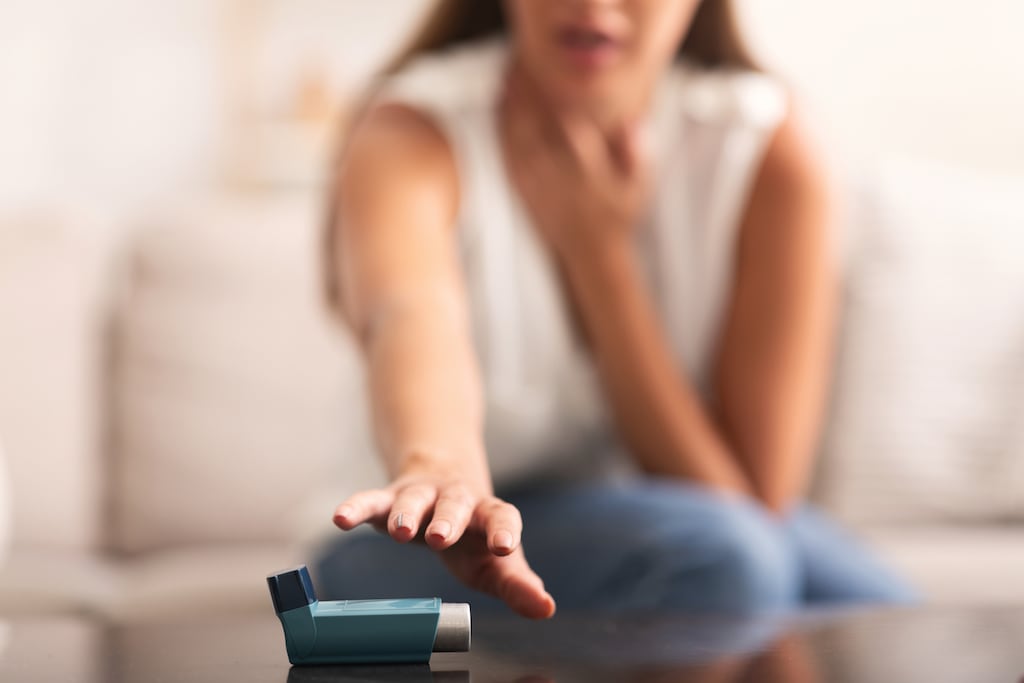 Asthma is a chronic condition that causes swelling of the airways which makes it difficult to breathe. On average, asthma results in the deaths of 10 Americans each day according to the Asthma and Allergy Foundation of America.
While asthma medications taken regularly can help prevent daily symptoms and flare-ups or attacks, sometimes asthma attacks will still occur and these can be life-threatening.
Knowing what a severe asthma attack looks like, what to do when an asthma attack develops and when to seek help, could help save your life or the life of someone you know.
What does an asthma attack emergency look like?
An asthma attack can develop slowly over the course of several days or rapidly within minutes. Wheezing, coughing and breathlessness can worsen quickly. Young children may initially appear restless, unsettled and struggle to eat due to shortness of breath.
Asthma attacks that don't respond to treatment can quickly turn into an emergency situation. The following are signs* of a severe asthma attack and approaching respiratory system failure and require immediate medical attention:
Struggling to breathe - severe shortness of breath
Rapid breathing
Shallow breathing
Wheezing or whistling when breathing in and out. It is an extreme emergency if you stop wheezing without your symptoms improving
Chest tightness or a feeling of weight on your chest
Being unable to complete a sentence without pausing for breathe
Feeling confused, anxious or scared
Bluish or gray (with darker complexions) lips or fingernails
Symptoms which are not relieved by a rescue inhaler that usually works
Hunched shoulders
The area between the ribs and at the base of the throat sucks in and out with each breath
*Not all signs listed may be present during a severe asthma attack.
What to do in an asthma attack emergency and when to seek help
If you have developed a written Asthma Action Plan with your healthcare provider then it will outline the specific steps you should take in an emergency.
However, if you or someone you're with is experiencing the symptoms of a severe asthma attack listed above and you don't have a plan then follow the 5 steps below.
5 step plan for an asthma emergency
Sit upright - do not lie down. Loosen tight clothing and try to remain calm and not panic. Panicking can make symptoms worse. Focus on taking slow and steady breaths.
Immediately give 6 puffs of a reliever medication, such as an albuterol inhaler. Give 1 puff at a time, using a spacer device if it is available. If a spacer is being used then take 6 breaths from the spacer for each puff of medication. If no spacer is available then take 6 separate puffs directly from the inhaler with a 30-60 second gap between each puff.
Wait for 6 minutes and check for signs of improvement.
If there is little or no improvement then repeat steps 2 and 3.
If there is still no improvement then call 911 for an ambulance or go straight to the emergency room while continuing to repeat steps 2 and 3.
How to prevent and avoid asthma attacks
Get an Asthma Action Plan
Asthma attacks are more common in people with poorly controlled asthma. Develop a written Asthma Action Plan with your healthcare provider to help keep your asthma under control. Your plan should include:
The asthma medications you should take to prevent and relieve your asthma symptoms
How to identify if your asthma symptoms are getting worse
What to do in an asthma attack emergency
Make sure to always take your asthma medications as prescribed and keep a supply of the medications you need. Remember to review your Asthma Action Plan and the medications you are on with your healthcare provider from time to time to ensure they are still right for you. It's also important to tell your family and friends how they can help you in an emergency.
Avoid your asthma triggers
Avoiding things that trigger your asthma symptoms can also help you to avoid asthma attacks. The most common asthma triggers include:
Respiratory tract infections, such as colds, sinus infections and flu (influenza)
Allergens, such as pollen, dust mites and animal dander and saliva (from birds, cats, dogs and other animals)
Irritants, such as air pollution and smoke
Exercise
Strong emotions, such as stress or anxiety
Strong odors, mold, pests, changes in the weather, and certain foods and medication (such as aspirin and non-steroidal anti-inflammatory drugs like ibuprofen) can also trigger asthma symptoms.
Bottom line
Controlling your asthma to help avoid severe asthma attacks is the best way to prevent an asthma attack emergency from developing. Develop an Asthma Action Plan with your healthcare provider and try to avoid things that trigger your asthma symptoms.
If an asthma attack emergency develops then follow your Asthma Action Plan or the 5 steps above. Do not wait to seek medical attention if your rescue inhaler is not working. Call 911 or go straight to the emergency room for help.