Why does chemotherapy cause hair loss?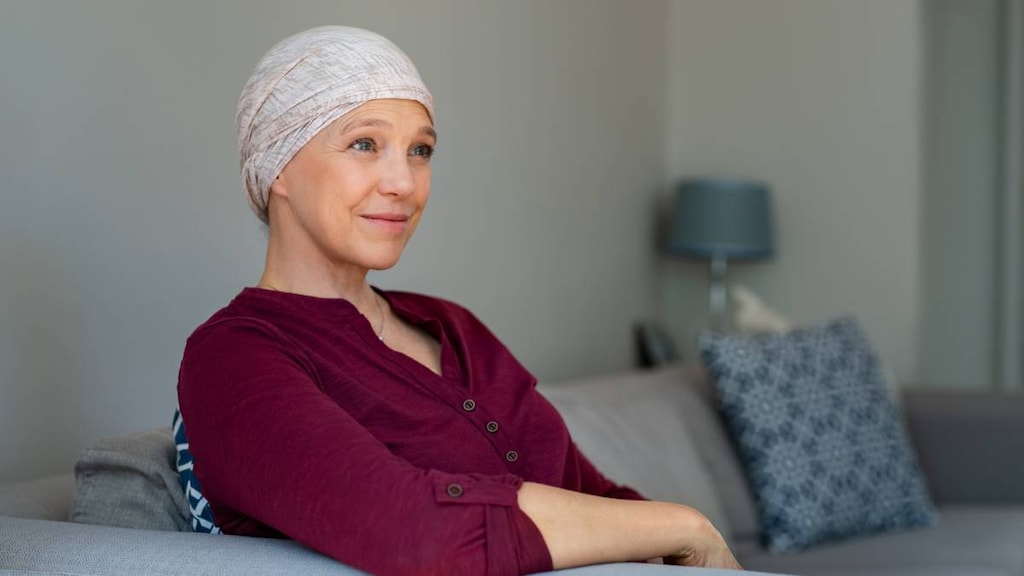 Chemotherapy kills fast-growing cells in your body. Its real target is cancer cells, but other fast-growing cells, including those in the hair roots, can become damaged as well. As a result, hair may begin to thin or fall out in clumps during shampooing or brushing while undergoing chemotherapy.

Hair loss is one of the most well-known and vexing side effects of chemotherapy. The medical term for this is alopecia, and it occurs in about 65% of people who receive chemotherapy drugs to treat cancer.

Chemotherapy-induced hair loss typically begins on the scalp, but it can occur on the eyebrows, eyelashes, face, arms, legs, underarms, body and pubic area, too.

This doesn't happen right away, and not all chemotherapy drugs or regimens cause hair loss. It usually takes several weeks of treatment to start noticing signs of hair loss. Such hair loss is often most pronounced and noticeable about 1 to 2 months after starting chemotherapy.

Other symptoms that can travel with chemotherapy-induced hair loss include itching, tenderness, and/or discomfort on your scalp.
Which chemo drugs cause hair loss?
Not every chemotherapy drug causes hair loss. According to the American Society of Clinical Oncology, those that are most likely to result in hair loss include:
The amount of hair loss will vary based on the type of drug, its dose, how it is administered and other factors. Chemotherapy drugs delivered intravenously may be more likely to cause hair loss than those that are taken orally.
Coping with hair loss due to chemotherapy
Coping with chemotherapy-related hair loss can be difficult. Some people may opt to cut their hair short before it begins to fall out to lessen the emotional impact of chemotherapy-induced hair loss.

Options for covering the scalp include wigs, hats or scarves. Wigs may be covered by insurance. If hair loss occurs in the eyelashes and eyebrows, artificial lashes and makeup can be useful. Support groups and/or counseling can be helpful when coping with the emotional effects of cancer and chemotherapy-related hair loss.

It's important to protect your scalp with a broad-spectrum sunscreen that has a sun protection factor (SPF) of 30 or higher.
Preventing chemotherapy-related hair loss
There is some evidence that wearing a cooling cap may help prevent chemotherapy-related hair loss. For this treatment, a specialized cap is worn before, during and after chemotherapy. The cap works by shrinking the blood vessels in the skin of the scalp so less drug reaches the hair follicles.

Two hair loss drugs, Rogaine (minoxidil) and Latisse (bimatoprost), should not be used during chemotherapy. However, these drugs may be useful after treatment ends to encourage faster hair regrowth.

There are some other ways to help limit chemotherapy-induced hair loss, including:
Not brushing hair too hard. Instead, choose a brush with soft bristles or a wide-tooth comb
Patting hair dry with a soft towel to avoid pulling
Avoiding hair dryers, flattening irons or styling tools that can harm the scalp
Not wearing hair in ponytails or braids, which can cause pulling
Choosing a gentle shampoo
Washing hair less frequently
Wearing a hair net at night
Sleeping on a satin pillowcase, as the fabric is gentler than cotton
As a general guideline, hair returns about 1 to 3 months after chemotherapy ends, but it can take up to one year to grow back completely. Hair may have a different texture when it grows back. It may be coarser, curlier or thinner. Hair may even be a different color after chemotherapy-induced hair loss. Hair usually goes back to normal over time. When hair begins to return, it's prudent to avoid perms and dyes for at least three months to avoid damaging the new hair.