The DSM-5 depression criteria explained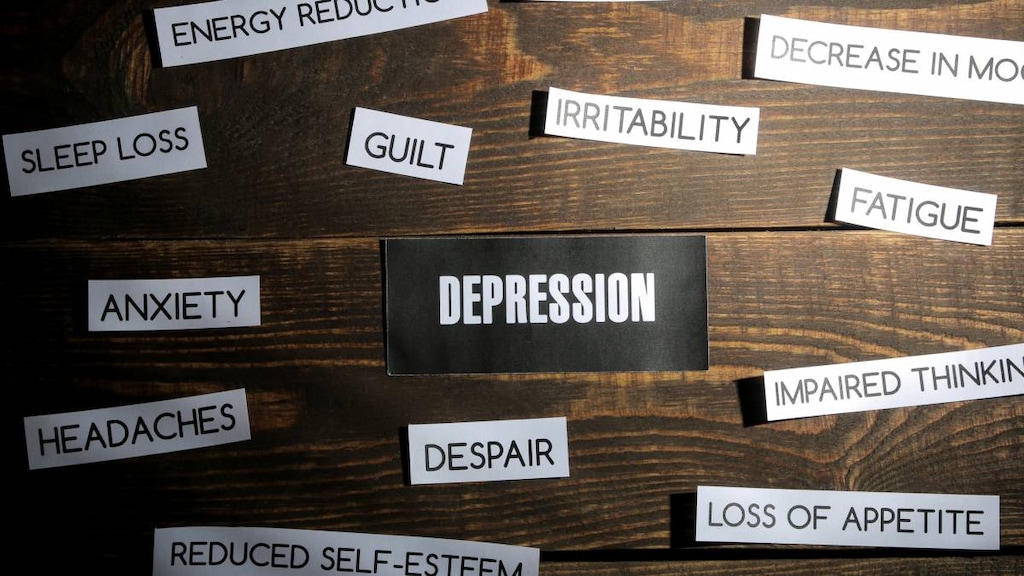 Depression is a common mental illness that has a negative impact on the way a person thinks, feels and acts. Depression is also known as major depressive disorder.
Depression is a serious illness for those affected. It causes feelings of sadness and can result in a person losing interest in activities that were once enjoyable. It can also impact their ability to function at home and work.
Some other health conditions, such as thyroid problems or vitamin deficiencies, can cause symptoms that can be confused with depression. Depression is also more than just feeling a bit sad. So, it's important that if you think you might be depressed you get a correct diagnosis.
The Diagnostic and Statistical Manual of Mental Disorders (DSM) is a handbook used by healthcare professionals that helps them to diagnose mental disorders, including depression.
What is the DSM-5?
DSM-5 (DSM V) is a handbook that lists the criteria for assessing and diagnosing mental disorders. It includes descriptions, symptoms and further criteria that help accurately define and characterize mental disorders. It does not include treatment guidelines.
DSM-5 is the fifth and latest version of the Diagnostic and Statistical Manual of Mental Disorders, which was first published in 1952. The DSM-5 provides a much needed update to the classification system used for mental disorders and was published on May 18, 2013.
The American Psychiatric Association (APA) took almost a decade to prepare the DSM-5, which was a long process involving the input of more than 100 researchers and clinicians in the areas of mental disorders and related fields. This latest update to the DSM is expected to especially help people whose symptoms aren't well defined and don't fit neatly with the old criteria outlined in the DSM IV, making it difficult for them to get a diagnosis and help. More accurate definitions of the various disorders are also expected to help researchers in their efforts to develop drug therapies and other interventions.
The DSM-5 is described as a 'companion' publication to the World Health Organization's (WHOs) system for International Statistical Classification of Diseases and Related Health Problems (ICD).
DSM-5 diagnostic criteria for depression
To diagnose depression (major depressive disorder), the following DSM-5 criteria need to be met:
The patient must have had five or more of the symptoms listed below and these must have been present during the same two-week period and be a change from previous functioning. At least one of the symptoms needs to be a depressed mood or loss of interest or pleasure. The symptoms of depression include:

Depressed mood or feeling sad
Depressed mood for most of the day, nearly everyday. Depressed mood can be diagnosed based on subjective reports from the patient, such as them saying they feel sad, empty or hopeless, for example. It can also be diagnosed based on the observations of others who may notice such symptoms as tearfulness in the patient.
Loss of interest or pleasure in activities that were enjoyable
Markedly diminished interest or pleasure in all, or almost all, activities. This should occur for most of the day and almost every day (based on subjective reports and observations).
Changes in appetite or weight
Significant changes in weight (>5% body weight in a month) - including significant weight loss when not on a diet or weight gain, or increased or decreased appetite almost every day.
Sleeping troubles
Sleep changes including having trouble falling asleep and/or staying asleep (insomnia), or feeling excessively sleepy during the day (hypersomnia), almost every day.
Increased purposeless physical activity or slowed movements and thoughts
Psychomotor agitation (restless symptoms, inability to sit still, pacing, handwringing) or retardation (slowing down of thoughts, actions or speech) almost every day. This should be observed by others and not just something the patient feels.
Fatigue or loss of energy almost every day.
Feeling worthless and guilty
Feelings of worthlessness or excessive or inappropriate guilt almost every day. The feelings may be delusional, but should not merely be self reproach or guilt about being sick.
Difficulty concentrating, thinking or making decisions
Diminished ability to concentrate or think, or indecisiveness, almost every day (based on subjective reports and observations).
Thoughts of suicide or death
Recurrent thoughts of death (which isn't just a fear of dying), recurrent suicidal thoughts (suicidal ideation) without a specific plan, or attempted suicide or a specific plan for doing so.

The symptoms cause clinically significant distress or impairments in social, work (occupational), or other important areas of functioning.
The episode is not caused by another medical condition or substance abuse problem.
The major depressive episode is not due to schizoaffective disorder, schizophrenia, schizophreniform disorder, delusional disorder, or other specified and unspecified schizophrenia spectrum and other psychotic disorders.
The patient has never had a manic or hypomanic episode. This exclusion does not apply to manic- or hypomanic-like episodes caused by a substance or the physiological effects of another medical condition.
Where to get help
Lifeline network provides free and confidential support 24/7 for people in distress. Call 988, text 988 or chat with the Suicide & Crisis Lifeline from anywhere in the US.
If you're helping support someone with depression or have been diagnosed with this medical condition yourself, read more about understanding and coping with depression and check out our tips for helping someone with this condition.